The answer to that is a Wind Turbine Blade manufacturing plant. Poor Galesburg, Illinois (pop. 25,000) must consider itself star crossed.  First it loses manufacturing jobs because plants like Amana close and then it loses Acciona's proposal to retrofit a new plant for Blade Production, which could have replaced those jobs. But at least they competed. Where was a town like Springfield when all this was going on? Nowhere to be seen.
West Branch, Ia is a city with a population of 2,500 and boasts to be the birth place of President Herbert Hoover. Winslow, Co. is a town with a  population of 15,000 that doesn't boast about much. So what do they have in common? They have seen the Energy Future and it is Green.
Horizon Wind Energy
 •          Corporate     headquarters: Houston.The parent company, Enegias de Portugal, is the largest utili­ty in Portugal. EDP has more than 1 million customers worldwide.
•          More than 200 U.S. employees with regional offices in Illinois, California, Oregon,Colorado and Minnesota.
•          Wind farms operating or under construction in Illinois, Texas,New York, Iowa, Oregon, Pennsylva­nia and Minnesota.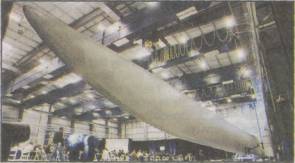 Jack Dempsey/The Associated Press
A wind turbine blade is displayed Wednesday during the opening of a Vestas factory in Windsor, Colo. The world's largest wind-turbine maker, based in Denmark, opened its first plant in Colorado in 2007.
>
Which is about the same time that Acciona announced that they had chosen West Branch as their site to build their plant. See these guys are in a competition to be the next world economic leaders while Springfield continues to sprawl uselessly and gears up to medically treat the aging baby boomers. What happens after the boomers die? Who cares.
http://windintell.blogspot.com/2008/01/usa-manufacturing-begins-for-spains.html
Acciona Windpower's
West Branch plant in
 production
By David DeWitte
The Gazette
WEST BRANCH — Iowa Gov. Chet Culver got a look at Acciona Windpower's first American-made wind turbine and an invitation to the running of the bulls in Pamplona, Spain, here Thursday.
The new wind turbine plant turned out its first AW-1500 wind turbine last month, less than seven months after work on the company's first North American factory here began.
At a dedication ceremony Thursday, Acciona Windpower Director General Pedro Ruiz said the plant's ability to meet its rapid startup timetable "gives us great confidence for the future."
Ruiz also discussed the company's plans for a second round of investment in the plant after it reaches full production. The company plans to use the 36-acre West Branch site to begin assembling its larger 3-megawatt AW-3000 wind turbines that are now under development. A timetable for launching the product has not been announced.
The plant is the fourth worldwide production facility for Acciona Windpower, a division of Pamplona, Spain-based Acciona Energy. It is scheduled to turn out 200 turbines in 2008, and 400 units at full capacity.
>
The thing that continues to frustrate me is that they erect those wind farms here in Illinois. So why can't they build the parts here as well? Oh the 2 winning town have another thing in common, the two companies are from the Spanish Pennsula, that is Portugal and Spain. Where are Commonwealth Edison and Ameren when you need them?
I have posted Acciona's website and what I could about their North American affiliate before but not for Horizon or Energias de Portugal:
>
About Horizon Wind Energy
Horizon Wind Energy develops, constructs, owns and operates wind farms throughout
the United States. Based in Houston, Texas with regional offices in New York, Oregon,
Illinois, California, Denver and Minnesota, Horizon has developed more than 2000 MW
and owns over 1300 MW of operating wind farms. Horizon is currently developing a
portfolio of more than 10,500 MW in over a dozen states. Horizon is owned by Energias
de Portugal (EDP), the largest Portuguese utility. For more information, please visit
www.horizonwind.com
http://www.edp.pt/EDPI/Internet/EN/Group/AboutEDP/default.htm
>
Their motto – Feel our energy