I wish I had a web Sitation for the orginal story that caught my attention, but I can not find it on the web. The actual story ran in the State Journal Register on November 29 in the business section titled "Bureau board bans S88 turbines written by Karen Newey of the Gatehouse News Service.
I find sitations for in here:
http://www.windaction.org/news/18748
and here:
http://www.pjstar.com/news/x81180400/Bureau-County-bans-companys-turbines-after-blade-breaks
OF THE JOURNAL STAR
---
Editor's note:
The Bureau County Board this week voted to not allow Walnut Ridge Wind LLC to use S88 turbines produced by India-based Suzlon on seven turbines located in Bureau, Manlius and Walnut townships. The board approved conditional use permits for those turbines. The information was incorrect from a story in some editions of Wednesday's paper.
PRINCETON — Bureau County officials want to try and ensure that a wind turbine failure like what was experienced on a farm southwest of Wyanet last month doesn't happen again.The Bureau County Board this week voted not to allow future wind farm developments to use the S88 type turbines produced by India-based Suzlon Energy."I am personally making the motion (to exclude Suzlon) due to the uncertainty of their turbines," ESDA and zoning committee Chairman Bill Bennett told the board at its meeting Monday. Bennett later amended his motion to the S88 model.
The request comes after a 140-foot fiberglass blade weighing 6 1/2 tons broke off at the stem where the blade connects to the turbine and crashed to the ground Oct. 22 on farmland leased by AgriWind LLC, which operates a small-scale wind farm composed of four 3.1 megawatt turbines. The turbines apparently had a defect, and Suzlon officials said the blades on all four turbines were scheduled to be replaced.
:}
This is not the first time that Turbine has had blade problems:
http://www.windaction.org/pictures/14798
Suzlon S88 turbine failure
October, 2006
Credits: Scott Riddlemoser
Description:
Catastrophic equipment failure at the wind energy facility near Lake Wilson, MN in September and November 2006.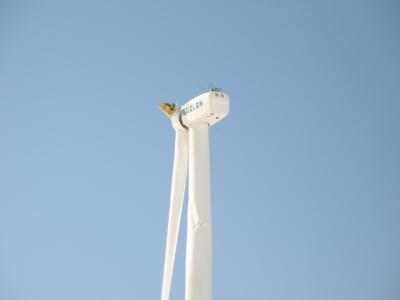 :}
To read more about these failures:
energyfacilities.puc.state.mn.us/documents/18946/CFERS%20recon%201.pdf
There are net hints that they had trouble in Germany as well, but how big is the problem?
http://www.articlearchives.com/north-america/united-states/1713929-1.html
Suzlon to provide Rs 100 cr for retrofit program in Q4.
Publication: The Economic Times
Date: Tuesday, March 4 2008

You are viewing page 1
MUMBAI: Suzlon Energy has reported retrofit program to resolve blade cracking issues discovered during the operations of S88 turbines in the US. The retrofit program involves the structural strengthening of 1,251 blades on S-88 turbines, of which 930 blades are already installed while the remaining blades are in transit.
The retrofit program will be carried out by maintaining a rolling stock of temporary replacement blades, to minimize the downtime for operational turbines, and will completed in six months. The total estimated cost of the retrofit program is at Rs 100 crore, for which a provision will be made in Q4 of FY08.
:}