A generation ago those of us in the alternative energy world, utility policy and energy conservation had a one word battle cry. Hood River. The town in Oregon that demonstrated many of the priniciples that we had fought for and Energy Corporate America had fought against. Well SeaGen is one of THOSE.
http://ecoscraps.com/2008/04/06/animation-seagen-tidal-power-turbine/
SeaGen Shatters Tidal Power Generation Record
 Written by Timothy B. Hurst
Published on December 18th, 2008
Posted in alternative energy
 Since its inception, we have been keeping a close eye on Marine Current Turbine's SeaGen project in the UK, the world's first commercial scale tidal stream turbine. Well, today there is more big news to report from the strong tidal flows of Strangford Lough as SeaGen has generated at its maximum capacity of 1.2MW for the first time. Thus far, this is the highest power produced by a tidal stream system anywhere in the world and exceeds the previous highest output of 300kW produced in 2004 by the company's earlier SeaFlow system, off the north Devon coast.
Generating at full power is an important milestone for the company, and in particular our in-house engineering team. We are very pleased with SeaGen's performance during commissioning," said Martin Wright, Managing Director of Marine Current Turbines (MCT). "It demonstrates, for the first time, the commercial potential of tidal energy as a viable alternative source of renewable energy."

According to company officials, now that SeaGen has reached full power it will move towards full-operating mode for periods of up to 22 hours a day, with regular inspections and performance testing undertaken as part of the project's development program.

 :}
Or You can go to the website itself:
http://www.seageneration.co.uk/
Welcome to the SeaGen
Project Website
SeaGen is the name given to the 1.2MW tidal energy convertor that will be installed in Strangford Lough in April 2008. Sea Generation Ltd is the project company which is a wholly owned subsidiary of Marine Current Turbines Ltd. SeaGen has been has been licensed for a maximum installed duration of 5 years.
Marine Current Turbines Ltd have been operating the 300kW Seaflow tidal energy system at Lynmouth, Devon since May 2003 and are recognised as being one of the worlds leading tidal energy system developers.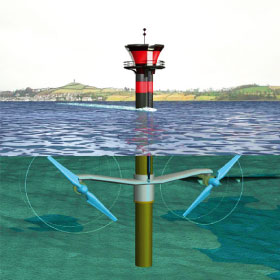 :}