We finally decided to get a metal roof and that was a learning experience in and of itself but it led to many horrifying discoveries. But first the metal roof.
http://www.newenglandmetalroof.com/
http://www.metalroofingwholesalers.com/
We shopped around and it was amazing the difference in contractors. I asked 4 contractors to give us bids on both a metal roof and a standard roof. I also asked if they had installed a metal roof and could I see it. On one end, a contractor who had done work for a couple of my friends that they were happy with showed up at the house. He took no measurements. He did not get on the roof. He said a metal roof would be 15,000 $$$ and 25 year roof in shingles will be 7,000 $$$. Let me know what you decide and left.! I called my friends and said WTF. They said, oh John is such a clown but he does good work…
http://ecx.images-amazon.com/images/I/61nP-dDSKTL._SL500_AA280_.jpg
Another contractor was good with the numbers but vague about experience and two other contractors seemed to have the numbers and the experience. One, Promax from Decatur gave me great references, One metal and one traditional. We decided to do the metal roof with them. I am an ex-roofer. I wish I could say that things went smoothly. They didn't. I am currently satisfied, but there were problems some of which they couldn't control.
http://ecx.images-amazon.com/images/I/61nP-dDSKTL._SL500_AA280_.jpg
They ordered the roof. It arrived late and not all the parts came. They had to reorder the parts. It rained every four days so that a job that was supposed be done in 2 weeks in June took 2 months, June and August. Did I mention that it was blazing hot when it wasn't raining?
chicagoist.com/2008/07/09/watch_pro_volleybal…
Nonetheless two things were apparent when they were done. The valley's around the dormers had been done "creatively" and we would just have to see how the winter went. Cathy was concerned about falling ice from the garage hitting the house and I was concerned about ice damming. The creativity about the valleys is hard to explain.. They do three feet of flashing in the valley and then cover it with metal roofing. The center of the valley is essentially decorative because the seam is protected by the sealing and the flashing. Well that and the continuously vented ridgecap (much more on that later) and the valley pieces were part of the reordered parts and when they showed up they had to get creative because the roof was pretty much done. They turned the valley pieces upside down and affixed them giving our roof a "distinctive" look.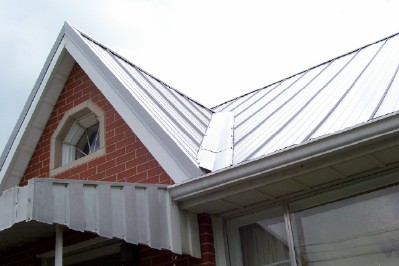 As I said, unconventional. I understand. They would have had to unseal almost the whole roof  to insert the metal under the other pieces of roofing for what was a decorative effect. But it scared the living bejesus out of the contractors we asked for bids on the solar space for the back of the house. Anyway to make a longer story much shorter the roof leaked in February and they came back and tinkered. The roof leaked in March and they came back and found the problem. Not however before I discover some real serious problems that horrified me.
More on Friday.
:}