I could add sick, disgusting, phony and funny to that list but why bother? I can show you how it was by example. But on the 150 aniversery of the first oil well..it is just plain sad. Oil guys used to be such roughnecks now they are kinda wussy.
The 2 most surreal events I had ever been to before was an Alice Cooper concert in 1969 and the Opening of Ticket Sales at the Dorothy Chandler Pavilion for the English Opera Peter Grimes in Los Angeles in 1984. I know Alice doesn't need any explanation (it does really), but the opening of ticket sales for an obscure opera?
But first a picture: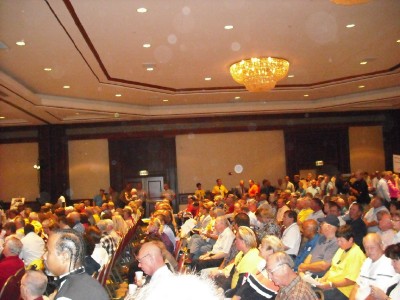 (thanks for the pictures Wes King)
It is in a BALLROOM. I have never been to a protest in one of the ritzyest ballrooms within a 100 miles of Springfield. This is the most senior citizens I have seen at a protest not sponsored by the AARP ever. There is no ethnic diversity in the room. I have been to plenty of protests, some where there were simultaneous counter protests and I have never seen this Caucasion of an audience since my last KKK rally. It is probably tough to see but the 2 black skinned men in the room are a waitstaff member at the bottom of the picture and way off in the distance there is a black camera man for the only news organization I saw that day, Channel 20 TV. Considering the cost of this rally that in itself was bizarre. But back to Alice Cooper.
http://www.youtube.com/watch?v=LA-sjSkRM4M&feature=channel
This Alice Cooper concert was when I was 14, and it was my first rock concert ever. It was in Peoria in a place since torn down called the Cow Palace. Which it literally was. A barn like structure with a dirt  floor where they sold cows (and other live stock). It was my 3rd acid trip…my first in public and I was with my fiance' Denise and some other San Jose (Illinois) crazies. All the lights were on so it was real bright, and all of the sudden the Wedding March starts playing, these flowers POP up on the stage and simultaneously a man in a tux (stage left), a women in a wedding dress (stage right) and a minister (center stage) all walk to the center of the stage. The audience was stunned. The minister performs the wedding complete with "is there anyone here who may object to this union"? Stunned silence. Towards the end of the ceremony Alice Cooper and his band in their full make up started peering through the flowers. At the "kiss the bride" part the room goes to BLACK, the stage lights come on low and giant trash cans come hurtling over the flowers, followed by Alice and the band…In that 2 second period my life changed for ever.
http://www.youtube.com/watch?v=dUFO_04J1r4
:}
My second most surreal moment could take some set up but I will try to make it as quick as possible. But first another picture of the event: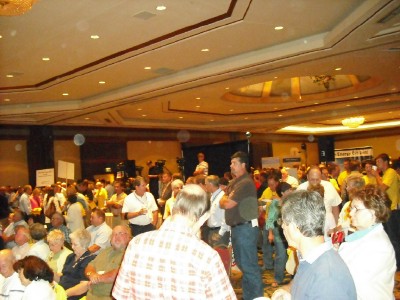 I mean really do these people look angry? Do they look passionate about preventing "cap and trade" in the area of carbon production because it has already worked for sulfur? NO these people look like people at the Republican Convention in Minnesota last year.
Anyway in 1984 I lived in Las Vegas with a woman who celebrated her 30 birthday. I had patiently gone to the Lyric Opera in Chicago for 2 seasons with her. Then I said enough! I am not going to another Opera unless it is in English and I was off the hook for a couple of years. BUT someone (probably her sister) told her that Peter Grimes was playing at the Dorothy Chandler Pavilion in LA.  Yes the same place where the Academy  Awards are occasionally given out. So we got a room in a South Central L.A., yes the place that burned down in the riots which was surreal enough as it was. We went for a driving tour of the LA area (Hollywood, Venice Beach, Malibu) and then we had Oriental Food downtown someplace. The next day we had to go pick up our tickets at the Pavilion. Yes I know that seems quaint now but you had to physically pick up your tickets. While we were waiting in this 500 person line we were subjected to a surprise Japanese Performance Art piece.
http://www.asianinfo.org/asianinfo/japan/pro-performing_arts.htm
http://outwestarts.blogspot.com/2008/03/attend-tale-of-peter-grimes.html
Nobody was looking up so I have no idea how it started, but suddenly you hear a huge horn sound…like a foghorn or something real deep and loud. I looked up and there on top of the Pavilion (4 stories maybe) was a long robed Japanese figure in an elongated paper masked, flanked on each side by 2 naked guys in diapers. He blew on this big horn again. It was about 8 ft. long and rested on the ground like an Alp Horn:
http://answers.yahoo.com/question/index?qid=20070905040636AAXDrTt
Then these 4 nearly naked Japanese guys rappelled down the front of the Dorothy Chandler Pavilion Australian style to some really weird Japanese music played through the Pavilion's very small very tinny outdoor speakers:
This rapel took forever. When they landed in front of us they did some short welcoming ritual (I am guessing). The guy on the roof blew the horn again. These naked guys jumped up and down once, turned and ran to the entrance way. They threw open the doors and ran inside the building and the guy on the roof was gone. People were so stunned nobody actually went through the door. Then people started clapping and several brave soldiers advanced into the que.
So there you have it. What I witnessed at the Energy Citizens protest rally yesterday was somewhere between an Alice Cooper Concert and a Japanese Performance Art piece on my surreal scale. WHOA
:}
:}