I got into the rally because Roy Wehrle got stopped by Security. The lengths that they went to keep out "undesirables" was pretty amazing. Will Reynolds, of the Sierra Club went in and gave some materials to their Press Table. He was then barred from reentry by 2 Sangamon County Sheriff's Deputies for distributing political literature. Apparently after that anyone seen talking to Will was a thoroughly dangerous man like in Alice's Restaurant. When I went in the ballroom they pounced on mild mannered Economics professor Roy and turned him away.
Remember this is the compelling protest designed to defeat Cap and Trade WHICH is the INDUSTRIES proposal NOT the Environmentalists. I like a huge Carbon Tax myself. Most European countries pay 6 $$$ per gallon for their gasoline…and that tax money is invested directly into renewables and infrastructure. Why not do something like that in the US?  This is what the "protest" looked like: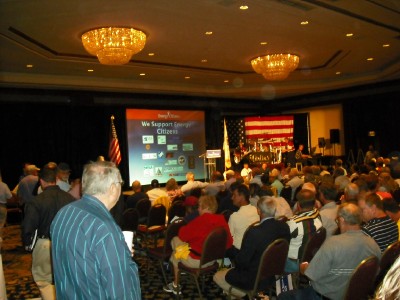 Photos by Wes King
:}
This is what they stand for:
http://energycitizens.org/about/
About Energy Citizens
Energy Citizens is a nationwide alliance of organizations and individuals formed to bring together people across America to remind Congress that energy is the backbone of our nation's economy and our way of life.
Energy Citizens are voicing their concerns about the impact climate legislation passed by the U.S. House of Representatives would have on American jobs, families and businesses. The alliance is urging the Senate to get it right and make sure that climate, energy and tax legislation would not take money out of Americans' pocketbooks and cost millions of jobs.
See personal stories from people across the country, or take a look at the list of participating organizations that have joined Energy Citizens in support of American jobs and affordable energy
:}
This is who paid for it:
http://www.redcounty.com/illinois-business-groups-schedule-anti-cap-and-trade-rally-sept-1st
Illinois Business Groups Schedule Anti-Cap and Trade Rally, Sept. 1st
A group called Energy Citizens made up of 23 Illinois business associations have scheduled a September 1st rally in order to protest the seriously damaging policies of the Cap and Trade bill. The rally will be held near the State Capitol in Springfield.
The event will start a noon and will be held at Crowne Plaza Hotel, 3000 Dirksen Parkway, Springfield, Illinois.
A notice was posted at the Illinois Farm Bureau website.
A lunch will follow the roughly 45-minute event, one of 22 rallies nationwide sponsored by the group Energy Citizens to oppose House-approved legislation. IFB members are encouraged to attend, and may contact their county Farm Bureau for additional details.
The Illinois members of Energy Citizens includes the Southwestern Illinois Employers Association and Wayne-White Counties Electric Cooperative, the Illinois Association of Convenience Stores, Associated Builder and Contractors of Illinois (ABC), Illinois Petroleum Marketers Association, Grain & Feed Association of Illinois, Growmark, Home Builders Association of Illinois, Illinois Association of Aggregate Producers, Illinois Coal Associations, Illinois Energy Forum, Illinois Farm Bureau, Illinois manufacturers Association, Illinois Petroleum Council, Illinois Pork Producers, Illinois Retail Merchants Association, Illinois Trucking Association, MidAmerica Energy, Mid-West Truckers Association, Illinois Oil & Gas Association, National Federation of Independent Business, Rural Electric Convenience Cooperative and the Illinois Fertilizer & Chemical Association.
:}
The saddest part was  they used local "personality" Bob Murray as the MC. I hate to pick on anyone but there is a reason that Bob moved from TV to Radio and there are no pictures available of him below the waist…I mean he is huge. When I walked in he looked pretty normal but when I got off to the side I was stunned. Then he made a joke about it. "I am so big", he said, "When I asked my mom when I was born she said July 4rth….July 5th and July 6th"
http://www.spoke.com/info/pF0Rf1m/BobMurray
I just wanted to cry. They were giving away bright yellow Tshirts that read, "I will pass on $4 gas". I wish now I would have grabbed one. There was even a sign that read, "RVer's Against Waxman-Markey" and another sign that read, "Crap and Trade".  As I  walked out Murray said, "The great thing about this country is that you can hold a meeting like this and then there is no one waiting for you in the parking lot to shoot your ass".  He then turned and launched into the Pledge of Allegiance.
WHAT a parking lot it was too. As I walked back to my car, past the hundreds of Lincoln Town cars, giant SUVs and the huge Chevys I noticed that they had filled up half of the parking lot with displays. There was   a huge 16 head combine that had a Rural America Needs Affordable Energy banner slung across it. A huge semi trailer display for Illinois Crude Oil and Natural Gas. To add insult to injury the last display I walked by was 2 bucket trucks with their buckets up holding a banner that said Stop Cap and Trade. The trucks were owned by the Rural Electric Convenience Coop in Auburn that just put up a 1.2 million $$$ wind turbine.
It may take me years to get the images out of my head…..yuck
:}
Oh and thanks to the college students who drove all the way from Chicago when we were thinking about disrupting this madness.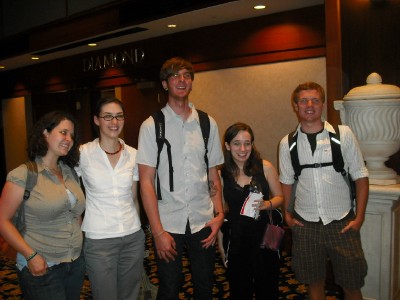 :}