It is true, a Volcano blew up and I did not say a word:
http://www.cnn.com/2010/WORLD/europe/04/14/iceland.volcano.evacuation/index.html
800 evacuated as Iceland volcano erupts
By the CNN Wire Staff
April 14, 2010 12:38 p.m. EDT
(CNN) — Icelandic authorities evacuated about 800 people early Wednesday when a volcano erupted beneath the Eyjafjallajokull glacier, an emergency spokesman said.
The first evacuations began at 2 a.m. (10 p.m. ET Tuesday), according to Rognvaldur Olafsson, chief inspector at Iceland's Department of Civil Protection and Emergency Management. He said everyone in the area was safe.
"We have located the fissure that is erupting under the glacier," Olafsson told CNN. He said scientists are currently doing aerial reconnaissance of the area and that officials would know more when they return.
So far, he said, the eruption has created a large hole in the glacier. Lava is not a big concern but flooding is, he said.
iReport: Are you there? Send your images, videos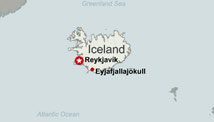 Map: Eyjafjallajokull glacier
"The volcano is under the glacier, and it's melting parts of the glacier," Olafsson said. "The rivers will rise and potentially make some damage."
iReporter captures footage of eruption
Rivers closest to the glacier have already started rising, he added.
The glacier is the sixth-biggest in Iceland, just to the west of the bigger glacier, Myrdalsjokull. It is about 100 miles (160 km) east of the capital, Reykjavik.
:}
So will it effect the environment. Yes. Anything that disrupts air travel is a good thing because air travel is one of the largest causes of global warming. Will it cool the planet any. Probably not but if Kitra goes off it could be a major event and the last three times "Eyja" went off Kitra did too. So keep on watching folks. Air travel here was disrupted too so it was nice to sit on my swing out back and look at the stars with no blinking jet lights.
:}
And yes, an Oil Rig blew up and sank. What, that doesn't happen everyday? I guess the gulf needs 42,000 gallons of oil spilled in it every day for God knows how long.
http://www.cbsnews.com/stories/2010/04/26/national/main6433600.shtml
NEW ORLEANS, April 26, 2010
Oil Spill Continues; Will Robot Fix Leak?
Officials Wait to See if Unmanned Submarines Can Activate Cut-Off Valves a Mile Below Gulf of Mexico Surface
(CBS/AP)
Authorities continue to monitor the size and direction of a Gulf of Mexico oil sheen by air, while using robotic underwater equipment to try to shut off its source at a wrecked deepwater drilling platform.
The Coast Guard and the companies that owned an operated the rig plan a Monday afternoon news conference in Robert, La., the site of a command center established over the weekend to deal with the crisis.
The oil has been leaking at a rate estimated at 42,000 gallons a day. Workers are trying to make sure the oil doesn't reach the Gulf Coast's fragile ecosystem.
An explosion on the floating deep water rig last Tuesday night led to a huge fire and the eventual sinking of the rig. The search for 11 missing workers was called off on Friday.
Crews began using a robot submarine Sunday to try to the leak nearly a mile below the surface, but said it would take at least another day before they knew whether the job was completed.
The Coast Guard said the oil spill was expected to stay 30 miles off the coast for the next several days.
The robot submarines are trying to activate valves at the well head. If that doesn't work, crews are also planning to drill a relief well to cut off the flow – which could take several months.
What appeared to a manageable spill a couple of days ago after an oil rig exploded and sank off the Louisiana coast Tuesday, has now turned into a more serious environmental problem. The new leak was discovered Saturday, and as much as 1,000 barrels – or 42,000 gallons – of oil is leaking each day, Coast Guard Rear Adm. Mary Landry said.
:}
This is what they want in the artic? If they drill off Virginia, is this what they want coming up Chesapeake Bay?
:}