I typed in "best way to avert a nuclear disaster" thinking that I might get a joke or something other then Japan's smoking nukes. I was wrong but this guy is pretty insightful.
http://www.marketoracle.co.uk/Article26916.html
Nuclear Power Industry Praying Japan Will Avert a Nuclear Disaster
Stock-Markets / Nuclear Power Mar 14, 2011 – 10:59 AM
By: Martin_D_Weiss
Explosions and meltdowns at nuclear reactors in Japan this past weekend will forever change the world of energy.
Authorities have already scheduled widespread power outages starting today — and they could continue the planned outages for weeks or even months.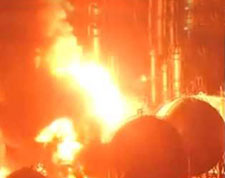 Nuclear power plant explosion in Fukushima, Japan, on Saturday, following that nation's strongest earthquake in history.
But that's just a metaphor for the sustained global energy shortages that are likely, as the safety and long-term viability of nuclear power comes under more intense scrutiny than at any time in history.
How do we know that's the likely outcome?
Because prior nuclear disasters, such as Three Mile Island and Chernobyl, had a major long-term impact on nuclear plant construction.
Moreover, those two disasters were ultimately written off to antiquated facilities or poor safety precautions. In contrast, the Japanese nuclear industry prides itself on safety, and the plants struck by the earthquake had far better staff training and equipment, including multiple back-up systems, all of which failed.
Some nuclear experts will counter that newer and safer technologies now exist or can be developed. But given the history of similar promises in the past, those are bound to fall on deaf ears.
The public will now ask …
Is there a fundamental incompatibility between the potential dangers of nuclear energy and the unpredictable wrath of Mother Nature?
That question defies any quick answer and could take years to resolve. Until then, further growth in nuclear power production could be drastically reduced, with potentially far-reaching consequences:
Chronic global energy shortages, especially in countries that were counting on new nuclear energy for a large portion of their electric power.
Massive, long-term upward pressure on crude oil prices as producers, consumers, and investors upwardly revise their forecasts of fossil fuel demand.
Vast sums of investor money diverted from nuclear power plant construction to other alternative energy sources, such as wind, solar, and bio-fuels.
:}
Still battling viruses. So hopefully more tomorrow.
:}