That is right. After one of the worst nuclear accidents in history, in its own backyard the Fukushima Power Plant Meltdown barely slowed the Chinese quest for megawatts. While Spain and other countries review their plants and Germany has renounced its programs altogether, the Chinese plunge ahead.
http://www.guardian.co.uk/world/2011/jun/15/china-nuclear-plants-pass-inspections
China's nuclear power plants pass safety inspections
Regulators give country's 13 reactors the all-clear following checks ordered in wake of Fukushima disaster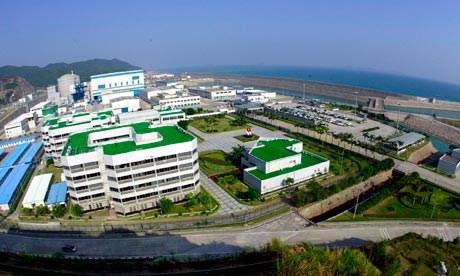 The Daya Bay nuclear power station in Guangdong province, south China. Inspectors have given the country's existing reactors the all-clear. Photograph: Adrian Bradshaw/EPA
China has moved a step closer towards resuming its ambitious nuclear power plans after it was revealed that safety inspectors have given the country's 13 reactors the all-clear.
The clean bill of health makes it more likely that Beijing will not follow the example of other countries – most recently German, Italy and Japan – who have promised to scale back or abandon nuclear power in the wake of the meltdown at the Fukushima Dai-ichi plant in March.
China has the world's biggest nuclear expansion plans with a goal of more than 100 reactors by 2020, but it suspended permits for new plants after the tsunami disaster in Japan.
The government said it would not be resumed until existing plants were checked, construction plans reviewed and a new national safety framework put in place.
That process is now well under way, according to a statement by the deputy environment minister, Li Ganjie, posted on a government website. As well as the completed checks for plants in operation, reviews of facilities under construction would be finished by October, he said.
Few analysts expect China to trim or delay targets that were included in the latest five-year economic plan to meet the power demands of a growing economy, while reducing the country's reliance on greenhouse gas-emitting fuel sources.
But critical voices have grown louder. Professor He Zuoxiu, who helped to develop China's first atomic bomb, caused a storm last month when he claimed that plans to ramp up production of nuclear energy twentyfold by 2030 could be as disastrous as the Great Leap Forward.
:}
More tomorrow.
:}