When has it been ok to urinate and defecate in a drinking water source. But Humans world wide do it every day. Some of us purify those byproducts before they actually get to the river or the lake or the aquifer, some of us don't. When has it ever been OK to put food products let alone industrial products (lets take the buy out of byproduct) in a drinking water source yet we have done it for 200 years. What did we think? That there would be no results?
Yet we go further. We stack our garbage in the most inappropriate places like we are PROUD of it. Heh look our garbage pile is bigger than yours.  Like the garbage dump that you can see from SPACE.
http://gothamist.com/2003/09/30/fresh_killpark.php
Fresh Kill…Park?
Mayor Bloomberg announced the city's plans to turn the closed Fresh Kills landkill into a park. The Times points out that the landfill is "a garbage dump site that is so large it can be seen from space," which is why it's a sensitive and important issue for Staten Islanders…especially Staten Islanders who can vote. Reporter Michel Cooper describes the city's renderings of a Fresh Kills Park as "Monet using Photoshop" or Andrew Wyeth-like. Staten Island Borough President James Molinaro called the announcement was "the final nail in the heart of Dracula," as people have been speculating the dump might reopen since it closed in 2001. The Post says the proposal from Field Operations, the landscape company that won the competition to transform Fresh Kills, includes "bird-nesting island, public roads, boardwalks, soccer and baseball fields, bridle paths and a 5,000-seat stadium.
Of course, all of this is also an effort to keep his approval numbers from slipping any further, although at this point, it'd be in the negative territory…people would just claim ignorance when asked about Mayor Bloomberg.
More information about Fresh Kills.
:}
What the heck have we ever been thinking?
 http://naturecalendar.wordpress.com/2008/05/27/fresh-kills-earning-back-its-name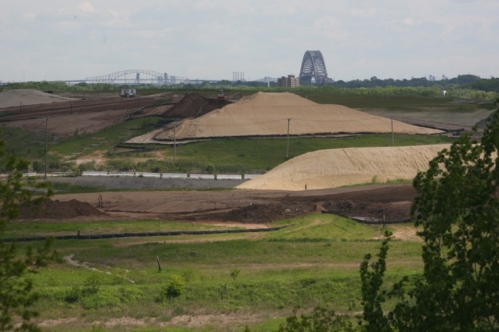 by Erik Baard
Not so many years ago, if you told people that you were getting up early on Saturday morning to rush over to Fresh Kills on Staten Island, they would have thought you were crazy or a highly-paid union worker. Today, a few savvy folks might peg you for a naturalist.
The world's largest dump (actually, the world's largest manmade structure, of sorts, in that it exceeded the volume of the Great Wall of China) is quietly transforming into the city's second largest park, after Pelham Bay Park. You can witness the process yourself by signing up for a free tour now through November through this link. Don't fret the competition to get a ticket – the tour I joined this weekend wasn't booked up. Besides, you have, oh, a few more years of chances. The park officially opens in 2036.
 (the site has four large ones mounds, ranging between 140? and 200? tall)
At the moment the trash is being digested by microbes, which will actually cause the mounds to shrink a bit. But not before they've earned their keep! The methane ("natural gas" in daily parlance), organic chemicals, and carbon dioxide produced are tapped via long pipe networks (see the methane taps in the foreground of the above photo by Emmanuel). The natural gas is purified and sold to Keyspan (now part of National Grid), which in turn sells it to heat up to 10,000 homes at a time. I can imagine a "green" dry cleaner using the CO2 to spiff up designer suits for the local gentry.
Less immediately marketable is the leachate goo that landfills produce when water jazzes up microbial and fungal activity. That's dried and shipped out to another landfill in West Virginia. As a side note, the five boroughs now send trash to Pennsylvania, Virginia, and South Carolina. Remember, the primary insight of environmentalism is that when things are thrown away, there is no "away."
:}
Please read both articles if you have a strong stomach.
:}