See, it's not just that it's a 1973 designed reactor on which construction was started in 1976 and finished in 1984, nor is it the fact that it had 4,000 safety violations, cost 2.4 billion $$$ and was finally paid off in 2004. No, it's that it is inbetween an ocean and a bay, it's on a fault line, and it's in the flow path of a VOLCANO. One that is still ACTIVE.  Everything about this screams "retard alert" or "danger will robinson danger"…
But it isn't just one volcano it's 2 in a chain of Volcanoes. Both Natib and Pinatubo Volcanoes are within 60 miles of the site.
http://en.wikipedia.org/wiki/Mount_Pinatubo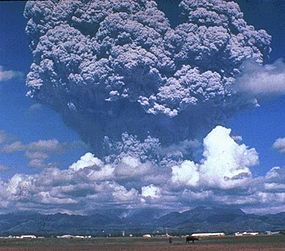 :}
Natib is a whole nother booger that goes off about every 2,000 years and it has been 3,000 years since it went off..
http://www.philstar.com/Article.aspx?articleId=443497&publicationSubCategoryId=75
The 1992 Torres report
While he was still at Phivolcs, Dr. Ronnie Torres, a foremost expert regarding pyroclastic flows who is now at the University of Hawaii, warned of volcanism and faulting at the site in a 1992 report, "The vulnerability of PNPP site to the hazards of Natib volcano" (Phivolcs Observer, Vol. 8 No. 3: 1-4).Quoting Dr. Torres: "Natib volcano does not erupt very often but could still erupt." As a rough rule of thumb, the longer a volcano is in repose, the more time it has to store eruptive energy, and thus, the stronger the eventual eruption caldera on Mt. Pinatubo.
The Sonido-Umbal 2001 Report to the Subic Bay Metropolitan Authority
Dr. Ernesto Sonido collaborated with Mr. Jesse Umbal to submit in 2000 an exhaustive, 38-page analysis for SBMA of the geology and geohazards of the Subic Bay area. Jess Umbal is one of the brightest, most competent volcanologists and geologists I know. Working with me during the Pinatubo eruption, he earned his Masters degree at the University of Illinois in 1993. Dr. Sonido is not a volcanologist, so we can assume that Umbal wrote those aspects in the report, which adjudged Natib as "potentially active." The report documented two Natib eruptions that formed large calderas, one with a diameter more than twice as big as that of the new caldera on Mt. Pinatubo.
The Cabato et al. study
In 1997, Ms. Joan Cabato, Dr. Fernando Siringan and I of the National Institute of Geological Sciences of UP Diliman, collaborating with the Mines and Geosciences Bureau and the National Power Corp., initiated a geophysical study of the marine geology of Subic Bay. The study was supported as "due diligence" hazard evaluation by then SBMA Chairman Richard J. Gordon.
From a slowly moving boat or ship, we gathered 125 kilometers of "seismic reflection" data. That method puts powerful pulses of low-frequency sound into the water. The sound passes down through the water and into the layers of sediment below the sea floor. Some of the sound is reflected back upwards from the different sediment layers, and is collected by hydrophones trailing behind the boat. Much as if we took an X-ray, electronic equipment automatically uses the returned signals to make a detailed picture of the structure underlying the sea, in our case down to a depth of about 120 meters.
After we processed the data and prepared the manuscript, it underwent rigorous scrutiny by our geological peers in the Philippines and abroad, before it was published in the international Journal of Asian Earth Sciences. I am proud to have been part of that effort, which earned a Masters degree for Joan Cabato, a very bright young woman who recently earned her doctorate from the University of Heidelberg in Germany.
Quite by accident, we discovered a massive deposit of sediment that can only be explained as originating as a large pyroclastic flow from the large Natib caldera, in an eruption that occurred sometime between 11,000 and 18,000 years ago. That date has wrongly been called Natib's latest eruption. A systematic study of Natib itself could find evidence of even younger eruptions.
:}
So here is one of the BIG Questions what happens to a reactor when it washes out to sea. I have no answer but it sounds like a very bad idea. Some people would argue that it would just melt down and be encapsulated…but I got my doubts.
http://www.bataan.gov.ph/ragingpeninsula/mt.natib.trekking.html
BATAAN NATURAL PARK
Tala, Orani
Mt.Natib is the highest summit in the entire Natib Caldera System in the Bataan Natural Park, a dormant volcano with an elevation of 1,253 meters above sea level (masl). It lies between the larger Old Caldera and the smaller Pasukulan Caldera and represents the latest of the volcanic edifice to develop in the area. The slope is characterized by very steep forested slope. Mossy forest characterized by small-stunted trees occurs approaching the peak. The peak is covered by a small patch of grassland. Also found are boulders with inscribed names of American expeditionary forces that climbed the peak way back the 1930s.
Mountain climbers and nature lovers will find the mountain exciting and interesting since the forest is home to many floral and faunal species. Migratory birds are also seen in the area. A trail shelter is available for overnight trekkers to pitch their tents and enjoy a breathtaking sunrise. However local guides should escort visitors.
http://maps.google.com/maps?hl=en&tab=wl
http://maps.google.com/maps?hl=en&tab=wl
:}
What about the Earthquakes? More tomorrow.
:}