The Poker Run for Motor Scooters that CES started for Earth Day in the Spring continued in the Fall. The Weather was bad, the Ridership was low but we still had a good time. The food at Mike Carter's was really really good. Thanks to the SCOOTER GUYS! Websites first:
http://www.overturfpowersports.com/
http://www.farmandhomesupply.com/
http://thecornerpubandgrill.com/
http://www.carterswestside.com/index.htm
:}
Then the Poker Scoot:
We started at GrabAJava like always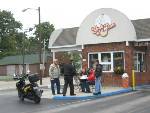 Moved on to Overturfs

Stopped at the really nice people at Farm and Home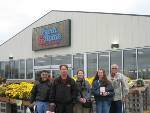 Then they went for a big ride to Cantral, Salsbury and back to JiffiStop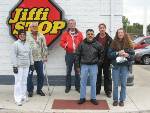 We skipped over to the Corner Pub and Grill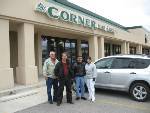 The Scoot ended at the great guys, The Scooter Guys, and great cooks at Carter's Westside
Everyone WON because we had 4 brave riders (and we saved some loot for next Spring)
:}
Next year we will have a sign up sheet with a minimum number of riders and a backup date.
:}