That's right there is a wave of storms heading towards Riverton Illinois the home of Community Energy Systems. So the blog is a little hasty today because I may need to unplug the computer and flee to the basement. This blog has been an itch waiting to be scratched. My last name is Nicodemus and while scanning a list of environmental groups to do the German piece yeasterday I came across this:
http://www.wildernessproject.org/
THE NICODEMUS WILDERNESS PROJECT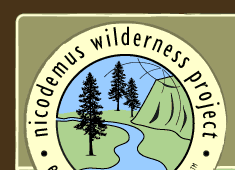 Recent News:

NWP exceeds Charity Navigator's criteria for a Four Star (top rating) national nonprofit organization ( January 2008 )
REI generously awards a $5,000 grant to NWP's Apprentice Ecologist Initiative™ ( January 2008 )
NWP Apprentice Ecologist™ interviewed by Woman's Day (readership > 20 million) for volunteer opportunities article ( January 2008 )
We engage youth (especially at-risk and low-income kids and teens) in environmental stewardship projects worldwide, including beach, river, and mountain trash cleanups, wildlife habitat restoration, and native tree planting ($500 scholarship for top project). Recognized by the U.S. EPA, Gov't. Lead
Help protect wildlife and our environment and help build future conservation leaders with your gift donation today. With a generous gift of $50 or more, you will receive your choice of a free Special Gift. Meet the people and organizations that support NWP as key Sponsors & Collaborators.
We have a strong regional focus on the delicate arid ecosystems of the American Southwest, especially in New Mexico and Arizona. Our local volunteer-based projects include native plant restoration, trail rehabilitation, riparian protection, wildlife conservation.
Our Apprentice Ecologist Ambassador™ program has strong roots in Tropical Africa, especially in Ghana, Senegal, and Cameroon. Our grassroots projects include native tree planting in deforested regions, environmental education, litter removal, and plastic bag control (to help prevent malaria).
| | | | |
| --- | --- | --- | --- |
| Youth Volunteers | Hours Volunteered | Trash Removed (lbs.) | Native Trees Planted |
| 3,886 | 17,670 | 63,387 | 12,532 |
| | | | |
| --- | --- | --- | --- |
| Area Restored for Wildlife (acres) | Number of Countries Represented | U.S. Dollar Value of Volunteer Time* | Value of Your $50 Gift Contribution** |
| 3,487 | 85 | $ 318,758 | $ 410 |
In case you wonder…I have no idea who this is and am no relation to him but I sure wish I was.