Since the oil/gasoline price spike I have avoided driving. I know that not everyone can do that but I refuse to give 1.50$ to oil speculators and .50$ to gasoline refiners through rigged gasoline prices. Still the question of whether Henry Ford knew he was killing us by using the sky as an open sewer is intriguing
 http://findarticles.com/p/articles/mi_m1594/is_n6_v5/ai_16437572
Ford's environmentalism is more practical. Vehicle Recyclability Coordinator Susan Day is touring the country, touting the company's use of recycled products in its far-flung manufacturing operations. "The first Henry Ford used to break down shipping crates and use the wood as floorboards for the Model T," she said. "And he also tried to build car bodies out of soybeans." The latter operation was aborted after cows began showing an interest in eating the finished product, but Ford is now recycling more than it ever did.
:}
Early on he was a pacifist:
http://www.spartacus.schoolnet.co.uk/USAford.htm
On the outbreak of the First World War in Europe, Ford soon made it clear he opposed the war and supported the decision of the Woman's Peace Party to organize a peace conference in Holland. After the conference Ford was contacted by America's three leading anti-war campaigners, Jane Addams, Oswald Garrison Villard, and Paul Kellogg. They suggested that Ford should sponsor an international conference in Stockholm to discuss ways that the conflict could be brought to an end.Ford came up with the idea of sending a boat of pacifists to Europe to see if they could negotiate an agreement that would end the war. He chartered the ship Oskar II, and it sailed from Hoboken, New Jersey on 4th December, 1915. The Ford Peace Ship reached Stockholm in January, 1916, and a conference was organized with representatives from Denmark, Holland, Norway, Sweden and the United States. However, unable to persuade representatives from the warring nations to take part, the conference was unable to negotiate an Armistice.
 :}Apparently he was a big fan of biofuels and assumed his cars would run on ethanol. In fact he favored waste plants and cellulose rich plants for the creation of that ethanol:
http://www.hempcar.org/ford.shtml
Fuel of the Future
When Henry Ford told a New York Times reporter that ethyl alcohol was "the fuel of the future" in 1925, he was expressing an opinion that was widely shared in the automotive industry. "The fuel of the future is going to come from fruit like that sumach out by the road, or from apples, weeds, sawdust — almost anything," he said. "There is fuel in every bit of vegetable matter that can be fermented. There's enough alcohol in one year's yield of an acre of potatoes to drive the machinery necessary to cultivate the fields for a hundred years."
Ford recognized the utility of the hemp plant. He constructed a car of resin stiffened hemp fiber, and even ran the car on ethanol made from hemp. Ford knew that hemp could produce vast economic resources if widely cultivated.
Ford's optimistic appraisal of cellulose and crop based ethyl alcohol fuel can be read in several ways. First, it can be seen as an oblique jab at a competitor. General Motors had come to considerable grief that summer of 1925 over another octane boosting fuel called tetra-ethyl lead, and government officials had been quietly in touch with Ford engineers about alternatives to leaded gasoline additives. Secondly, by 1925 the American farms that Ford loved were facing an economic crisis that would later intensify with the depression. Although the causes of the crisis were complex, one possible solution was seen in creating new markets for farm products. With Ford's financial and political backing, the idea of opening up industrial markets for farmers would be translated into a broad movement for scientific research in agriculture that would be labelled "Farm Chemurgy".
:}
He is faring better than I thought he would. Wonder if the Oil and Gas Companies had anything to do with the Great Depression? Oh.
:}
Then there is this:
 http://www.msnbc.msn.com/id/15233556/
Renewable energy has an icon:
Henry Ford
Conference hears about
history and 'bioenergy' future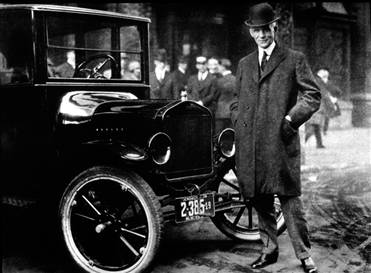 ST. LOUIS – A century ago, Henry Ford's Model T was the first flexible-fuel vehicle, running on gas, ethanol or both, and the automaker foretold the future when he said fuel could be gotten from fruit, weeds, sawdust, or anything else that could be fermented.
The story, as told by Archer Daniels Midland's CEO Patricia Woertz, resonated with her audience at a national renewable energy conference here Wednesday.
Woertz, formerly head of refining at Chevron, now heads the Decatur, Ill.,-based agricultural company that is also the biggest ethanol producer in the U.S.
Count her among the converted.
"We believe we are just at the start of this new era of bioenergy," she said, acknowledging ADM began building toward that start 30 years ago. "We believe the market can and should grow larger."
Woertz was among dozens of speakers representing business, financing, government and research at the conference co-hosted by the U.S. departments of energy and agriculture.
President Bush addressed the conference Thursday, saying that, while he liked seeing the recent drop in oil prices, "it's not going to dim my enthusiasm for making sure we diversify away from oil."
:}
Then there is this:
 http://www.umd.umich.edu/eic/fordestate.htm


The Castle Made of Fossils:
Henry Ford Estate Fairlane
The building material used to build Henry Ford's final estate in 1914 is Limestone from Kelley's Island in Ohio.  Glaciers carved out this island exposing many fossils which can be seen in the walls of the the estate.  For more information on Kelley's Island and its rich natural history please visit the Kelley's Island Natural History webpage.   The Natural Area is located on the grounds of the Henry Ford Estate.  Henry Ford helped to create and shape this landscape in the early 1900's.  To learn more about the Estate, please visit the Henry Ford Estate official website.    
This waterfall on the Rouge River was used by Henry Ford to generate electricity for his home.  The Estate's Powerhouse still generates electricity today.   In 1914, Thomas Edison laid the cornerstone for the Powerhouse.  Can you find the Cornerstone that he laid?
Scavenger Hunt Question:
Can you find the cornerstone on the powerhouse near the waterfall behind the Estate? It was laid on October, 1914.
Environmental Interpretive Center   University of Michigan-Dearborn
4901 Evergreen Road  Dearborn, MI 48128 (313)593-5338  
:}
So even though he spread the combustion engine throughout the world which ultimately could do us in he was an EARLY Environmentalist. He generated his own Hydro Power. I am so kind>
:}