This is at one time really cool, a really cool site and depressing if you live in the heart of the energy hog.
http://www.inhabitat.com/2008/09/12/sustainable-homes-from-easy-domes/
:} I can't say enough about this publication. Its great! :}
 Echoing the structures of Buckminster Fuller's Geodesic Domes, Danish Architect Kári Thomsen and Engineer Ole Vanggaard have created Easy Domes, a series of quick assembly, low-energy homes! Following the success of the first Easy Dome home built in 1992 for the Greenland Society on The Faroe Islands, a number of dome-shaped cottages were erected as tourist getaways. Since then, the buildings have been put into production and delivery of these fabulous prefab buildings was initiated early this summer!
The unique shape of the Easy Dome, called an icosahedron, is designed to optimize the amount of interior space inside each home. Made up of several hexagonal pieced together, the dome hosts a wealth of interior nooks and crannies, making it stand out from other prefab home designs.
The dome offers individuals the opportunity to build their own high quality homes, coming with pre-built wooden sections, ready to assemble on either a concrete or timber plinth. Once on site, the dome houses take only one day to raise and seal, and for domes less than 500 square feet, no crane is needed to complete construction. The load construction is extremely strong and built for extreme weather, including wind speeds of 200 mph with one meter of wet snow on the roof.
The completed two-floor homes come with living room, kitchen, bathroom and two bedrooms and are constructed using only sustainable and recycled materials. The exterior is covered with non-toxic impregnated pinewood, and the roof is covered with grass. The construction is ventilated on the exterior and insulated with wood-wool or flax, with fiber gypsum to cover all installations and cables. The floor is made up of a plate of reinforced concrete with pressure-resistant insulation and vitrified gravel underneath. Laying on top of the concrete are insulation and floorboards. Furthermore, each home is installed with solar panels and a brick stove, both of which are thermostat-controlled and connected to a water tank. Other renewable energy systems are also available
With a minimum use of materials, the domes are sustainable, energy efficient, spacious and cost-efficient. There is also the potential to erect two or three domes together.
 :}
You can find much more at their site: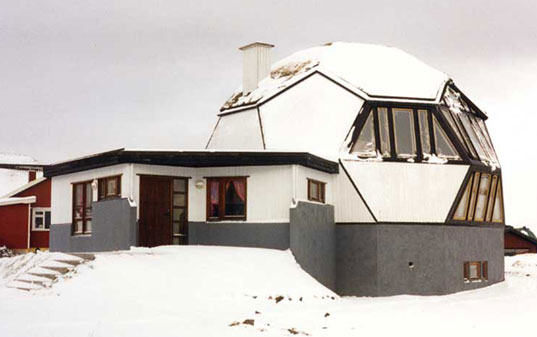 The Easy Domes concept sets up for advantages in a very quick and easy assembling and raising of the building and its finish. On a concrete or timber basic it takes one day to raise and seal the construction which is made of quality plywood and 3×4? to 3×6″ timber in pinewood.
All sections are premade and ready to assemble with bolts and nuts and the sealing of the edges with asphaltpaper or rubber. The climate shelter and finish out – and inside are also precutted plates / sections ready for mounting.
Floor, partition walls and windows and doors are offered as the house by this becomes ready for kitchen, bathroom, furniture, lamps and other installations done by the dome owner.
The Easy Domes products are certified and of high quality and precision made materials fullfilling  international building rules and standards.  Transport is easy in container  and no crane is needed to erect buildings untill the 50 sq.ft. domes.
As domes are geometrical structures optimized on loads and climate conditions – with a minimum use of materials –  advantages are reached in a sustainable, energy efficient and  spatial building on a very suitable cost level.