If folks just used their common snse and the materials around them the USA could have low energy consuming elegant housing:
http://www.rammedearthhomes.com/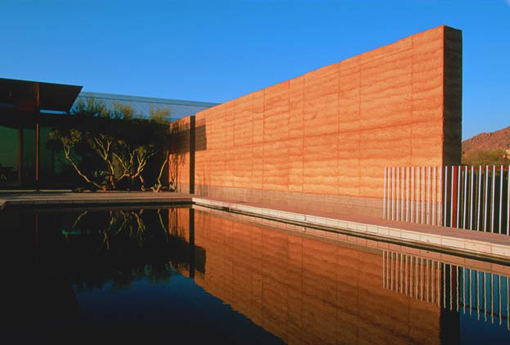 Offering:
Passive-solar design/build
Rammed earth wall construction for homes, businesses, gardens, art projects.
Passive-solar-design and rammed-earth-technical consultation with architects, engineers and owner-builders.
Rammit Yourself workshops. 
 Work continues on our home in 2008. If you would like to participate in a workshop format during this process, please, in an email to Julie@RammedEarthHomes.com 
state your first, second and third choices for workshop dates. We will try to compile workshops that accommodate dates within those choices.
If you would like to discuss possible dates, please call Julie at 520.896.3393. Reservations for chosen dates may be made by phone.
 :}
This site is so huge. It contains 12s of books. If you want to build a house, this site is a must visit.
 http://www.greenhomebuilding.com/rammedearth.htm

Rammed Earth
Ramming earth to create walls is at least as old as the Great Wall of China. It is really quite similar to adobe and cob techniques, in that the soil is mostly clay and sand. The difference is that the material is compressed or tamped into place, usually with forms that create very flat vertical surfaces. Modern rammed earth typically utilizes heavy mechanized equipment to move and compress the material . The walls are normally at least a foot thick to give enough bulk to be stable and provide the thermal mass for comfort. It is best to apply insulating material to the outside of the building to keep the interior temperature constant. The interior surface can be finished in a variety of ways, from natural oil to more standard surfaces. Rammed earth houses tend to have a very solid, quiet feeling inside.
:}
This site is also extremely helpful:
http://www.diyrammedearth.com/
Do It Yourself

Rammed Earth
We are Bill & Stephen Betzen, a father and son team who started the planning process in 2004 to build a rammed earth home in Dallas, Texas by 2009.  We are on schedule. We want to share research we have done and make connections with similarly interested Do It Yourself (DIY) people also interested in rammed earth construction and benefits.
Our home is planned to be a 2400 sq ft, 2 story home with a covered balcony and porch surrounding the home. The ground floor earthen walls will be 2 ft thick with 18″ thick walls above the second floor. The goal is a home that will be as cool as possible in the hottest Dallas summer. With a home fully surrounded by both a shaded porch and a shaded balcony, as well as many trees, we hope the worst Dallas summer sun will never heat the thermal mass of the rammed earth walls. Combined with a ventilated, reflective metal roof over insulation, we hope that annual air-conditioning needs will be greatly reduced if not totally eliminated.
Our research shows rammed earth construction to be the most simple, environmentally responsible method for building the thermal shell of a home.  It will be a strong, quiet, healthy, termite-free, fire-resistant, comfortable home, one weighing 300+ tons and lasting many generations. It will save thousands of dollars annually in utility and maintenance costs along the way. 
Stephen's mother and maternal Hungarian ancestors were born in, built, and lived in rammed earth homes for hundreds, if not thousands of years. They speak fondly of the quiet, year-around comfort of their rammed earth homes. We will simply add about 3-5% cement to the mixture, with a reflective, ventilated roof, and extra shade for the Dallas heat.
Continue to explore what is already online about rammed earth with www.google.com or with some of the following links, including the web ring at the bottom of the page linking with similar web pages.
If you know of rammed earth building resources near Dallas please let us know.  We are searching
:}