So my question is why didn't they build it next door and let a real family live in it?
http://abcnews.go.com/Technology/SmartHome/popup?id=6074047
Chicago's Greenest Home
This is what green living looks like. To showcase the future of eco-friendly architecture, Chicago's Museum of Science and Industry has built a three-story "green" home in its backyard. On display from May 8, 2008 to Jan. 4, 2009, the Smart Home: Green + Wired exhibit not only features sustainable design and recycled materials, it also includes cutting-edge "smart" technology. With help from Wired magazine, the exhibit incorporates automation systems that save homeowners time, reduce energy consumption and enhance entertainment. For more information, visit msismarthome.org.
(JB Spector/Museum of Science and Industry)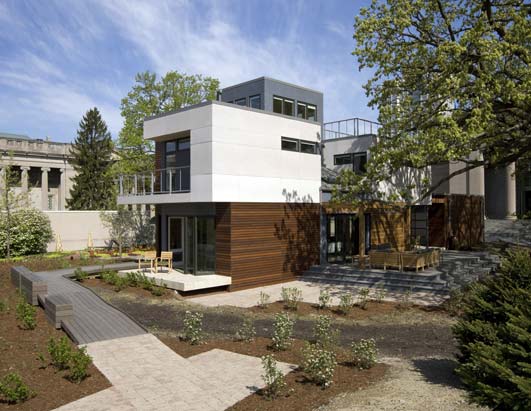 :}
Please see the entire story for the slide show. There are 13 pictures in all.
:}
 http://www.thedailygreen.com/green-homes/eco-friendly/chicago-green-building-exhibit-46010908
Yesterday, on its 75th anniversary, Chicago's much-praised Museum of Science and Industry announced construction of a 2,500 square-foot green home, reports the Chicago Sun Times. The home, slated for the museum's east lawn, is designed to be a showcase for green living.
The 2-bedroom, 2-bath pre-fabricated house will feature a number of green building designs, including a gray water recycling system that redirects filtered sink water into the toilets. The toilets will even have two buttons to save water when only a little is needed, something that will be quite familiar to many Australian and European visitors.
The home will also have cement siding, energy-efficient LED light fixtures, insulating triple-pane windows, landscaping chips made of peach pits, recycled ceramic tiles and a green roof. It will be powered by solar and wind energy.
This "Smart Home" is scheduled to open May 8 and run through January 2009. It will cost guests $10.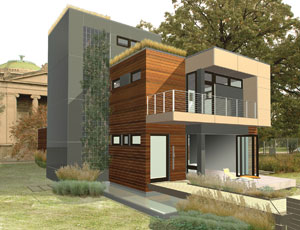 http://www.nahb.org/news_details.aspx?newsID=7865
 Called the mkSolaire™, the home features family-friendly interior architecture and shows some of the possibilities and benefits of energy-efficient heating, ventilation and air-conditioning systems and earth-friendly building materials.
The "Smart Home: Green + Wired" exhibit and home tours run through Jan. 4. Some detailed information on the exhibit and home features is available on the museum's Web site.
The home was manufactured and put in place by All American Homes of Decatur, Ill. and designed by Michelle Kaufmann Designs of Oakland, Calif.
The exhibit illustrates why many in the green building movement are embracing modular building systems. Modular construction, with its efficient use of materials, labor and energy, has been environmentally friendly almost since its inception.
In addition, modular construction can shorten the construction cycle by as much or more than two-thirds when compared to conventional site construction – reducing energy usage during construction and potentially saving on financing.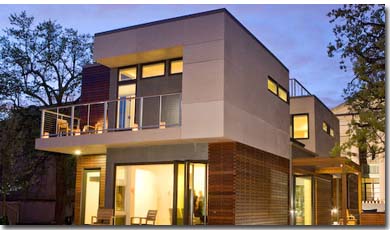 :}
Please note quoting the late great Robert Palmer: The lights are on but no one is home. Energy conservation and a model home right?