I was reminiscing with a Guy who grew up in a rural Sangamon County household whose house was built to recycle water. I was telling him about my daily bucket brigade duty when I was staying at my great grandparents house. His name is David. He said, "OH yah well I had to do that everyday for almost 15 years". He said that he grew up next to his grandmother's house and she already had a well. It was hand dug by his dad and his grandfather. There was no way his dad was going to dig another well. So when they build his families house they put in a huge tile lined cistern feed from all of the downspouts off the roof. That was fed into  a tank inside the house by an electric pump which pressurized the whole system. The holding tank fed a hot water heater and a cold water line. The rest of the house was plumbed like a regular house.
The reader is probably thinking that what we are describing is a classic quaint little farmhouse setting with the large kitchen with the little bedroom off the kitchen for the married couple. They had a slightly larger "sitting room" that had a couch, some over stuffed chairs, a desk and some pictures on the wall for more formal entertaining and the children lived in the cramped attic. Where they sweltered  in the summer and froze in the winter. These house were usually all porch because folks spent most of their time outside. Well yes I am talking about those houses BUT these people have a cistern too:
http://www.phys.ufl.edu/~liz/home.html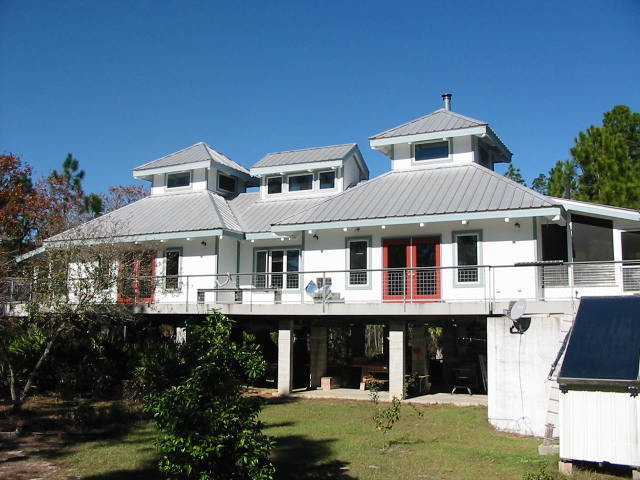 :}
That's right please also note that there is a solar water preheat system (not shown) on the garage. This is a house in Floirda that is totally disconnected from any centralized distribution system, and they use a chemical composting toilet.
They did not drink cistern water mainly because of taste. Dave said the well water from his grandmothers house was so sweet it was like drinking candy. So that was his job as the little man in the house, he went to the well and filled up a 2 gallon porcelain bucket twice a day everyday until he went off to college. He noted that the job changed as he got older and so did his grandmother. He first started checking on her to see if she needed anything. Pretty soon he was getting water for her too. He said she had a reservoir on the back of her cob cook stove (which I had forgot about – my grannies did too). Eventually he was taking her ashes out for her too. The advantage was he got one breakfast from mom and then another from his grandma. 2 Breakfasts in one day. What a treat.
But the funniest stories were the ones about water conservation. He said repeatedly, "We were taught water was precious".  Those lessons have not changed:
 http://www.charlottesville.org/Index.aspx?page=1681
He said, "You got whatever it was wet (teeth, body, dishes) and then you did whatever you needed to do. Then you turned the water back on BRIEFLY." He said,"When you were in the shower if you heard the pump come on you knew it was time to get out of the shower no mater what because it was about to get real cold." Laundry day was the toughest because his mother had a wood rod that she could stick in the cistern to measure its level. She knew that she could only use so much water washing clothes because they needed it for other things..the nearest water was 10 miles away.
Finally he said, "This was rammed home to us every couple of years because when it got really dry in some summers and falls we had to buy 500 gallons of water at a time. This guy from Sherman had a water truck and he would fill it up. He run a hose to your well or wherever you wanted it and dumped away." It was kind of exciting when you were a kid. But, as he got older he realized that those gallons of water meant fewer new clothes for the school year, or that his shoes would have to last longer, or that maybe his sister couldn't go to the Prom at school." Then he said it again, "You know water is precious."
:}
These people think so too:
 http://www.sfgate.com/cgi-bin/article.cgi?f=/c/a/2009/01/30/MNC615JNHB.DTL
Severe drought expected after mild January
Friday, January 30, 2009
California teeters on the edge of the worst drought in the state's history, officials said Thursday after reporting that the Sierra Nevada snowpack – the backbone of the state's water supply – is only 61 percent of normal.
January usually douses California with about 20 percent of the state's annual precipitation, but instead it delivered a string of dry, sunny days this year, almost certainly pushing the state into a third year of drought.
The arid weather is occurring as the state's water system is under pressure from a growing population, an aging infrastructure and court-ordered reductions in water pumped through the Sacramento-San Joaquin River Delta – problems that didn't exist or were less severe during similar dry spells in the late 1970s and late 1980s.
"We're definitely in really bad shape," said Elissa Lynn, chief meteorologist with the state Department of Water Resources. "People can expect to pay higher prices for produce … and more agencies may be rationing … some raising fees. We just don't have enough water."
In Sonoma County, water managers are expected to take a bold step Monday – telling residents to prepare for severe rationing within weeks.
"We have entered uncharted territory," said Pam Jeane, deputy chief engineer of operations at the Sonoma County Water Agency. "A 30 percent mandatory rationing order is just the beginning. Further decline in reservoir levels could necessitate 50 percent cutbacks."
:}
:}