Digg is a great place and as an Environmentalist/Energy person I get many of my ideas for posts there. But it can be depressing sometimes. Over the weekend people posted hundreds of articles to the point where I had to go nearly 10 PAGES into their posting to try to catch up. I never did.
http://digg.com/news/science/upcoming
Here is just a sampling of their first page. It is amazing.
http://www.treehugger.com/files/2009/02/ecological-stimulus-package-investing-natural-capital.php
Business & PoliticsBy: Jeanine Pfeiffer, Earthwatch Institute
What if we gave our environment the same wallop of attention we're giving our economy? What if we valued natural capital as highly as financial capital?
The US Congress has passed a $790 billion economic stimulus package. Last November, the Chinese government approved a four trillion yuan (US $586 billion) financial stimulus plan.
The Chinese plan included 350 billion yuan (US$51 billion) for ecological and environmental projects. These projects, according to the Chinese Minister of Environmental Protection, Zhou Shengxian, will emphasize treating pollution and supporting rural environmental efforts and green industries.
In the US, President Obama's administration is proposing a ten-year $150 billion plan to create clean energy industries, green jobs, and change consumption habits. The plan aims to reduce greenhouse emissions, but also includes intriguing bullet points like clean coal technology and constructing the Alaska natural gas pipeline.
Where's the environment – left on the "outside"?
Absent from any of these plans, debates, and discussions on economic stimuli and environmental plans (several million hits on the internet, last time I checked), is a clear focus on our ecology, our natural capital.
Thinking environmentally is not the same as thinking ecologically. In common speak, the word "environment" refers to our surroundings –the "out there" part of our world. An environment can just as easily include tons of concrete buildings, asphalt highways, and diverted waterways as it can include rain forests, furry critters, and mountain streams.
:}
 http://lafora.com.br/2009/02/o-ar-que-resfria-sua-casa-aquece-o-mundo/
16/02/09 | América do Sul/Central/Caribe, Interesse Público, Painéis |
Da Prolam Y&R do Chile para campanha de alerta contra o aquecimento global para a Columbia.
3 Labor Pitfalls in the New Green Economy
One of the most compelling concepts behind the new green economy is its ability to create jobs in the US. You certainly can't outsource the installation of a solar system or high-efficiency windows. Industrial-scale wind turbines are enormous, thus favoring local production.Although these concepts are true, there are some pitfalls to watch for:

1. Outsourcing Manufacturing
The US has lost 6 million manufacturing jobs in the last three decades.
3. Low Wages
Not all green jobs pay a lot of green, even when receiving generous local subsidies. A recent study of green jobs found recycling plant workers making as little as $8.25 an hour and manufacturing jobs in renewable energy products paying as low as $11 an hour.
:}
http://www.naturalnews.com/News_000734_Los_Angeles_South_Central_farmers.html
This is a quick update to bring a few time-sensitive items to your attention that you may want to check out.
First, I've just posted an exclusive interview with Dr. Steve from his Real Health show. He interviews me about the economic stimulus bill (15 minutes duration). This was recorded just yesterday, and thanks to Dr. Steve, we got it posted here: http://www.naturalnews.com/podcasts…
Dr. Steve's Real Health show is the best health podcast on the 'net, by the way. Listen to all 71 episodes here: http://web.mac.com/drsteve720/Site/…
On a separate topic, when I saw this next YouTube movie, I finally came to realize that the human species is probably not going to make it. What YouTube movie could possibly have such a powerful impact on my perspective of the human race? Watch it yourself and you'll see: http://www.youtube.com/watch?v=wusC…
Watch LAPD cops stand guard as the food supply of hundreds of poor L.A. families is being bulldozed into dust… this is madness in the extreme, and it's happening right here in the United States of America, by the orders of city officials!
If you're not already in tears after seeing that video, watch the aftermath of the city's bulldozers here: http://www.youtube.com/watch?v=juMe…
:}
http://edition.cnn.com/2009/TECH/science/02/12/fish.migration.study/index.html
February 12, 2009 — Updated 2227 GMT (0627 HKT)
 Fish migrating to cooler waters, study says

(CNN) — Climate-driven environmental changes could drastically affect the distribution of more than 1,000 species of commercial fish and shellfish around the world, scientists say.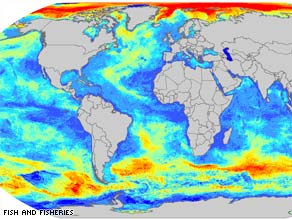 Red areas on this map show regions that are expected to have the greatest increase in fish populations by 2050.
For the first time, researchers using computer models have been able to predict the effect that warming oceans, fed by greenhouse-gas emissions, could have on marine biodiversity on a global scale.
A new study predicts that by 2050, large numbers of marine species will migrate from tropical seas toward cooler waters — specifically the Arctic and Southern Ocean — at an average rate of 40 to 45 kilometers (about 25 to 28 miles) per decade.
These migrations could lead to "numerous extinctions" of marine species outside the Arctic and Antarctic, especially in tropical waters, according to the study's projections.
"These are major impacts that we are going to see within our lifetime and our children's lifetime," said William Cheung, lead author of the study, set to be published this week in the journal Fish and Fisheries.
"Climate change provides us with a kick in the pants," added Cheung, a marine biologist and lecturer at the University of East Anglia in the United Kingdom. "We can't think about climate change and biodiversity without thinking about the impact it will have on people."
:}
http://www.ec.gc.ca/education/default.asp?lang=en&n=3D1A3FBA-1
Go on Stand By
A computer that runs 24 hours a day is eating up electricity, and money out of your wallet.
Pay attention to that humming sound: that's your computer sucking up energy. Whether you work in an office or at home, powering a computer is probably using more electricity than you think, and contributing to your personal greenhouse gas emissions, particularly when the electricity is generated with fossil fuels like oil or coal.
Research shows that most people leave their computer on throughout the entire business day, including lunchtime and meetings, but only use their computers an average of four hours a day. Plus, running a computer continuously at full power generates heat, which causes indoor temperatures to rise and increases the demand for air conditioning in the summer months.
If you work from home, consider that your network of home computers, monitors and printers can use more than 200 kilowatts per year per computer. Tally how much time one computer is on each day and multiply that by its energy usage. Now take a look at your electricity bill and see how the costs of staying connected can add up.
Going on stand by can be good
Reduce your energy consumption and greenhouse gas emissions by enabling the monitor's energy-saving features when you are away from your computer for a short period of time. In "stand by" mode (also called sleep mode, hibernate or power down mode), your computer typically drops to 50% of its maximum power consumption.
:}
From the green economy, to air conditioning, to bulldozing poor peoples gardens, to climate change to power vampires, how is a simple blogger to compete…yet I will continue to try.
:}
Oh and a lady wanted me to post a link with her site. So: