It really is a matter of quitting. We do not have to emit life threatening  green house gases into the upper atmosphere if we do not want to. That's a fact jack:
http://www.chicagotribune.com/news/nationworld/chi-sweden-carbonfree_goeringmar03,0,3023238.story
Going green: Entire Swedish city switches
to biofuels to become environmentally
friendly
Industrial community makes change with a minimum of cost, pain
|

Tribune correspondent

March 3, 2009
KALMAR, Sweden — Though a fraction of Chicago's size, this industrial city in southeast Sweden has plenty of similarities with it, including a long, snowy winter and a football team the town's crazy about.
One thing is dramatically different about Kalmar, however: It is on the verge of eliminating the use of fossil fuels, for good, and with minimal effect on its standard of living.
The city of 60,000—and its surrounding 12-town region, with a quarter-million people—has traded in most of its oil, gas and electric furnaces for community "district heat," produced at plants that burn sawdust and wood waste left by timber companies. Hydropower, nuclear power and windmills now provide more than 90 percent of the region's electricity.
Kalmar's publicly owned cars and buses—and a growing share of its private and business vehicles—run on biogas made from waste wood and chicken manure, or an 85 percent ethanol blend from Brazil.
ust as important, the switch from oil and gas is helping slash fuel bills and preserve jobs in a worldwide economic downturn. And despite dramatic drops in fossil fuel consumption, residents say nobody has been forced to give up the car or huddle around the dining table wearing three sweaters to stay warm.
"We are not eco-freaks," said Carolina Gunnarsson, a sustainability officer with the Kalmar County regional council, as her teenage daughter, wearing a tank top, lounged on their living room sofa on a snowy February afternoon. "We're just making it easy to change, giving people the tools."
:}
If you think it's just those liberal Swedes whose sole reason for their success is "it's small and has a homogenous population". Like why they can supply nationwide healthcare, universal education, paid maturnity leave and have the happiest population in the whole world. Well they do the same thing in Illinois, I mean the environment part.
http://www.prairiecrossing.com/pc/site/index.html
Welcome to Prairie Crossing
Prairie Crossing is a critically-acclaimed conservation community that was designed to combine responsible development, the preservation of open land and easy commuting by rail. The community offers a variety of housing options, including 359 single family homes and 36 condominiums, all designed in Midwestern vernacular architecture and built to the highest standards of energy efficiency. The single family homes are sold out, but a limited number of condominiums are still available! Please explore our website for information about the Organic Farm, shops and restaurants, Metra commuter rail service, Charter School, and our restored natural areas, as well as the Guiding Principles underlying the community.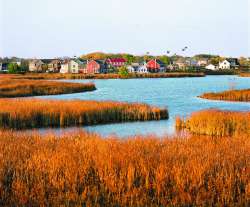 :}
Then you could say, "well that is all well and good for Illinois. But that wouldn't fly in a small rural state". Of course unless you are in say Georgia:
http://www.serenbecommunity.com/home.html
At home at Serenbe.
Let's say you could create the perfect place to live. Blank slate. Anything you want.
You might want a place where your quality of life was extraordinarily high. Where you felt an easy sense of community. Where the principles of sustainability touched everything from your home's methods of construction to the organic produce on your table that was grown by one of your neighbors.
Speaking of neighbors, you might prefer an eclectic group, from artists to writers to farmers to business people. You might like to walk paths that take you through both forest and meadow, ride horses along tree-canopied trails, or hear music outdoors in your neighborhood amphitheatre. Maybe you'd just like a place to get away, a place where you can enjoy a simpler life. For miles around you the Chattahoochee Hill Country is protected with a master plan that calls for 80% green space.
Let's say you'd like a place where you can stroll as well as stride. Where you can spend time being as well as doing. Then perhaps Serenbe is a place you'd be at home.
:}
:}