This is supposed to be some exciting feature of Google, but its turning out to be just plain boring. I typed in Energy Efficiency and clicked that lucky button. This is what I got:
http://www.nscorp.com/nscportal/nscorp/redirect.html
NS Police Emergency Contact: 800-453-2530
Who to Call
Register for accessNS
Customers
Investors
Media
Community
Employees
Job Seekers
This page either no longer exists or has moved.
:}
That's right Choochoo Trains. Freight hauling trains at that.
When you go to the home page:
http://www.nscorp.com/nscportal/nscorp/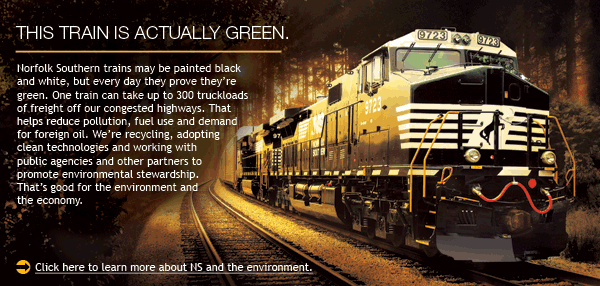 Of course I just had to click on the NS and the Environment switch with fear and trepidation:
 http://www.nscorp.com/nscorphtml/future/index.html
In the adress you can see The Future:

Norfolk Southern is committed to responsible transportation through:
Environmental Partnerships Recycle / Reuse Programs /Alternate Materials /Materials Management /Hazardous Materials Shipping
The Green Machine
    Carbon Footprint Analyzer
Click here to see how shipping freight by rail reduces your carbon footprint.
 Please note the first web link above is "hot", and the others are not. It's kind of a cool site in the sense of when you point at the rest of the "enviro ticks" they automatically pop up on the adjacent screen. The carbon footprint thingy is "hot" too.
Well it's not exactly passenger Light Rail….
:}