We started at Grab-A-Java at 1702 S. 6th ST in Springfield IL near the corner of South Grand and 6th ST. The nice owner Meg even gave us some free muffins…She says that she has a FaceBook page but for now a Photo and a yahoo citation is the best I can do:
http://travel.yahoo.com/p-travelguide-17622461R-grabajava-i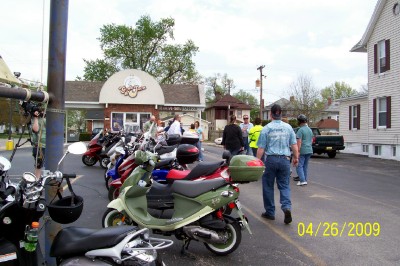 It was so windy the registration forms were literally being ripped from our hands. A good group showed up:
:}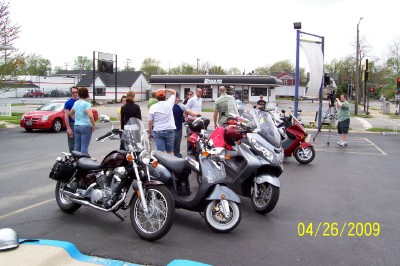 :}
Doug and Paul got to talk to the Channel 20 man about the Club and CES. Sorry Paul I did not get a real good picture of you until the end. I did not see the show so I do not know how it turned out. They are going to use the piece again on Saturday.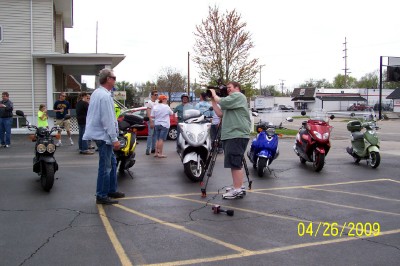 :}
Then it was time to RIDE. vrrrrooom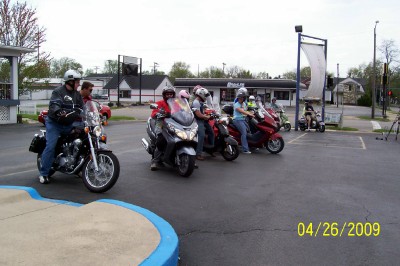 :}
To Overturf PowerSports who were very very good to us:
http://www.overturfpowersports.com/
1622 N. Dirksen Parkway. Dennis and his wife Karen gave us a $50 gift certificate and got us some nifty shirts, hats and mini-soccer balls from SYM: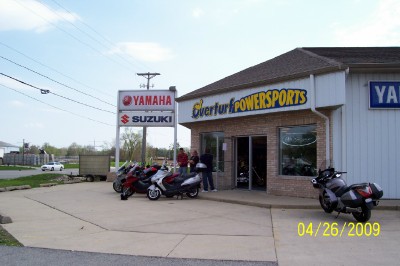 :}
Then it was on to the Phillips 66 Gas Station in Rochester IL:
http://www.automotive.com/gas-prices/35/illinois/rochester/phillips-66/551394/index.html
Where the nice manager Bobbie Patel gave us free soft drinks.
:}
Then it was on to the Alamo in Chatham:
http://www.merchantcircle.com/business/The.Alamo.217-483-6699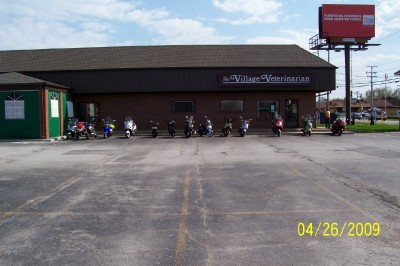 :}
310 N Main Plz
Chatham, IL 62629
217-483-6699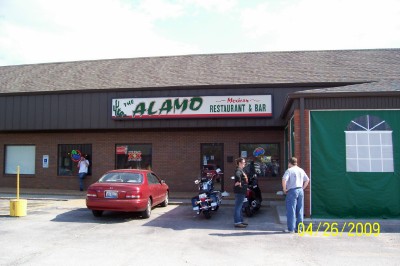 :}
Then to Mike Carter's Westside Automotive where Jim and Sam sell scooters. They served us the best Brauts ever:
http://www.carterswestside.com/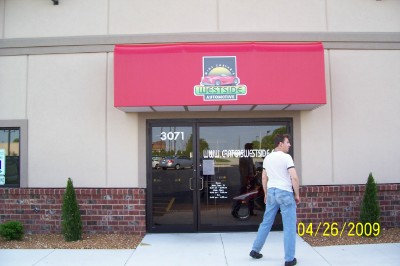 :}
That is one of my best friend's son, Joe Means. It was so good to have him along for the ride.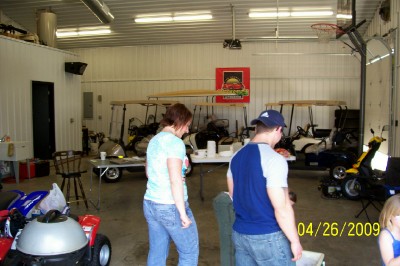 :}
Finally and saving the best for last we drew for the prizes at the Hoogland Center for the Arts:
http://www.scfta.org/index.php
Paul McAdamis is both the Club President and the WINNER with 3 8s. I could not have organized the 1st Annual CES Earth Day Poker Scoot for The Springfield Scooter Club without him. Thanks Paul!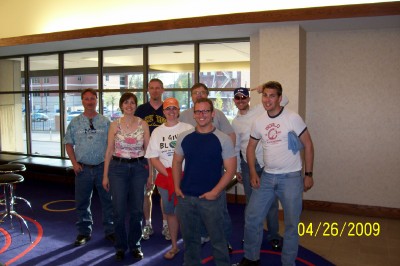 :}
Oh and THANKS to Katie for driving the Chase Truck.
:}