I do not care whether it is gasoline, oil, coal, natural gas, or electricity. Power can be dangerous and our motto is it's Jam Band Friday ( http://www.youtube.com/watch?v=UIY45rqzmNQ ).
NO – Safety First!
www.plu.edu/~safety/safety-training/home.html
:}
(  http://www.youtube.com/watch?v=Sq2vl99iIEc&feature=related )
There is a show that  is put on at the Illinois State Fair by the folks at Safe Electricity Org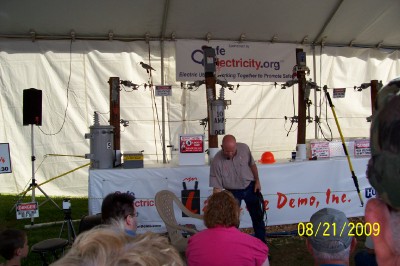 http://www.safeelectricity.org/
It amazes me after living in 2 hurrican prone areas…Tampa and New Orleans… that anyone would mess around with downed powerlines or purposely come int0 contact with high power electrical equipment. But they do every year.
:}
( http://www.youtube.com/watch?v=Ab6lr2b66Ig )
Do not drive over, touch or otherwise disturb downed powerline. They will fry your limbs off your body.
:}
( http://www.youtube.com/watch?v=i1IyJOc-l4s )
Shawn Miller lost an arm when he touched a downed line:
http://www.youtube.com/watch?v=9Q-mLyqXndA
:}
( http://www.youtube.com/watch?v=IuwxZSIS__4 )
Shawn's case was a lack of education and thoughtlessness. Some people do it on purpose.
http://205.243.100.155/frames/longarc.htm
The cylindrical object on the left houses a multi-million volt (MV) high voltage impulse generator (called a Marx Generator) at the Siberian Power Research Institute  (SIBNIIE) high voltage testing facility in Novosibirsk, Siberia. The rate of rise of the voltage pulse from the Marx Generator was adjusted to maximize the "efficiency" of long spark propagation. Although first reports of huge 100+ meter sparks were initially met with skepticism by scientists and high voltage engineers, a number of power engineers and scientists have subsequently witnessed similar events at this facility. Sometimes these errant bolts hit the top of street lamps in the adjacent parking lot!  At this facility, sparks up to 200 meters long have been created using a (comparatively low) potential of 5.2 MV.  In order to gain a feel for scale in the above photo, the cylindrical building is 28 meters (~92 feet) high, and it houses a 28-stage Marx generator that's capable of generating positive or negative output pulses of up to 7 million volts.

In late 2005, a member of the Tesla Coil Mailing List (Dmitry, a Tesla Coiling enthusiast who lives near the facility) was able to schedule a visit with members of their staff. Dmitry subsequently shared details about this facility in a series of email messages to the other members on the list, and the excellent pictures he took can be seen on our mirror of Terry Fritz's old Hot-Streamer web site.  :}
They are insane.
( http://www.youtube.com/watch?v=7xXIeD8HGoU )
:}