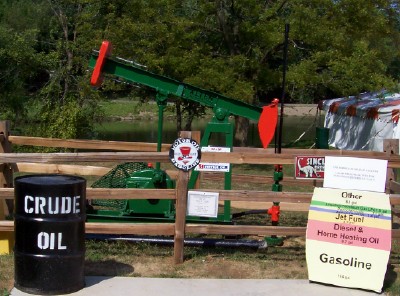 There were lots of Energy Displays demonstrating LOW Burn Behavior on display at the Illinois State Fair this year. Though it was kinda disheartening to see this at the bottom of the hill at Conservation World.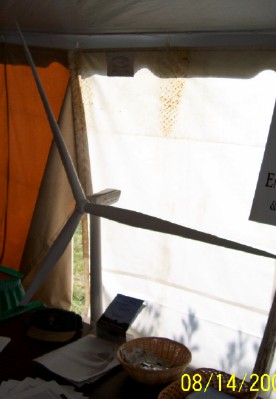 These are pictures from the Sangamon Valley Group chapter of the Sierra Club. The first is an actual working solar photovoltaic panel courtesy of CWLP's Bob Croteau of the Energy Services Department. They had a brand new hybrid car, the amazing story of which will be on another blog entry. The tent was womened by Catherine O'Connor and Diana Lopez under extreme heat and humidity. Thank You!
DECO Administrator John Marley tells a fireman how to quit burning up his own stuff.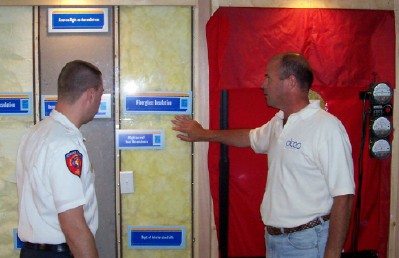 They had a blower door test and all manner of ways to plug holes in your home envelop…I had hoped we would be past this stage by now but apparently people are still trying to heat and cool the outdoors. Close the barn door people.
This guy is the real deal. This is Steve Cox and his company is selling the new Skystream 3.7 kilowatt personal wind turbine at www.ilwindpower.com. Way to go Steve and family! More on them later too…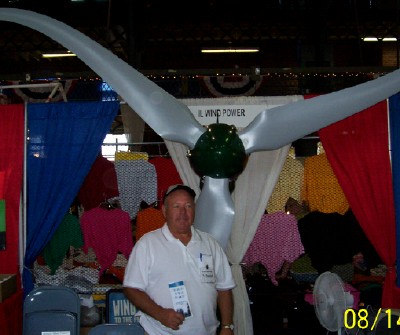 And finaly as a tribute to my good friend John Martin, an avid environmentalist, whose blog – thedrunkablog – that chronicles all things Denver, is linked on CES' blog. Weird Bird Friday, a tradition I may not be able to uphold. Sorry Susan Kay. From a Display by the Illinois Electricity Council concerning high voltage powerline saftey. Yes it is a dead bird. Not merely resting.
Next Time State Fair 2 and the hunt for the Energy Hog.