http://www.perfectgreeting.com/index.cfm?action=view&id=11823
I could have got this picture at the above greeting card site…..But I Didn't.. I really hate it when I can not attribute a photo so if you see this on the web let me know. It was forwarded to me by Harry Haynes a buddy in Madison so I will probably ask him where he got it.
I know its late but Easter came so early! It is just now getting to the point where the weather feels like Easter: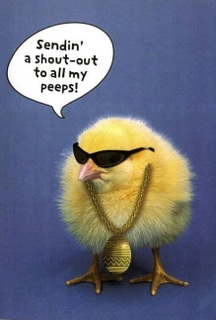 This as alway is a tribute to John and Susan who Blog about all things Denver
at their blog linked above. Few people know that they are life long Chicken Breeders who specialize in the rarer breeds of Asturian Painted Hens. They have raised several national champions. They report that they are good layers, too.