Oh I know the Republican Convention was on. It was so small and so dare I say it Conventional that I had to watch all 5 Dirty Harry movies. What a drain. 
So I found this really beautiful and really weird looking bird for today.
TGI(WB)F: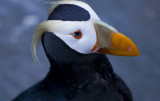 Anybody know what kinda bird this is?
Oh dedicated to Susan and John who blog all over Denver at:
http://www.thedrunkablog.blogspot.com/
:}
:}