The car looked like a Volkswagen on a Diet. It did not have the fulls curves of a modern Volkswagen and it appeared narrower. Still haven't found it but I did find these folks and they are neat.
http://www.thegreencarco.com/about_us/contact_us.php
The Green Car Company
Sales Department
We Have Moved!!!!
Address: 345 – 106TH AVE NE, Bellevue, WA 98004
Telephone: 425-820-4549
Hours: Now Open 7 days a Week for your convenience!!!
Monday – Friday :  8am – 6pm
Saturday & Sunday – 9:30am – 6pm
Email: Sales@greencarco.com
The Green Car Company is located just off the NE 4th St. exit off of the I-405.  From the NE 4th exit, go west toward downtown Bellevue.  Turn Left at 106th Ave NE. We will be immediately on your right hand side.  The building has a funny round roofline and used to be Backstreet Frame and Art.  We are next door to Bellevue Auto House and two doors down from Taco Time.
The Green Car Clinic Service & Repair
We have Moved!!!!
Address: 345 106TH AVE NE, Bellevue, WA 98004
Telephone: 425-820-4549
Hours:
Monday – Friday :  8:00am – 4:00pm
Closed Saturday & Sunday

Email: Service@greencarco.com
"I think we have a very brief window of opportunity to deal with climate change… No longer than a decade at the most"
Xof1 Solar Car visits The Green Car Company 
———-
UPDATE:
The Xof1 Solar Car was on display here at The Green Car Company and the event was a blast. (Pictures and video to come!) 

The Solar Car will be on display again today! Come by and see it anytime this morning through early afternoon. Call: 425-820-4549 for more information.
—————-
Marcelo da Luz, who has been trekking across North America via solar car will be showing off his Xof1 Solar Car to the public here at the Green Car Company. Come by early Monday afternoon at 2:30pm to see this amazing car!
The Xof1 left Buffalo, NY in early June, traveled up through Northern Canada to the Arctic Circle and he is now on his way down the West Coast to California and beyond. His website www.Xof1.com is cataloging his journey and has a wealth of information about his car.
We apologize for the short notice. Come by early Monday afternoon if you can, otherwise watch this space for lots of photos/video of the event!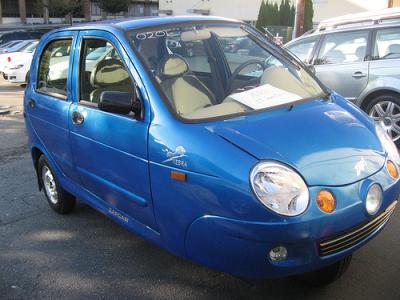 Xebra EV Electric Vehicle
XEBRAS do not attempt to behave like other vehicles. Unique, quite and surprisingly agile the Xebra is everything noisy internal combustion engines are not. The ZAP XEBRA electric vehicle is the offspring of more than three decades of thought and evolution. This vehicle was created as a breed by itself. Because the use and purpose of electric vehicles are different from gas cars, the wheel did indeed need to be reinvented.  
For 2008, The Green Car Company has taken the original Xebra and upgraded it to a new level. The Xebra EV has more power, speed, longer range and longer life!  This new level also includes a suspension upgrade with stiffer springs and shocks giving the Xebra  lower resistance and better handling!