I have dreamed about a building like this for 30 years. In fact I have dreamed of every building in the United States being built like this. At least I lived to see this one. It was a real exciting 2 days. The first day we found it, walked around it and scoped out parking. The second day we went inside. I could get all teenagery about it, but I have to agree with my cyber friend Dan Piraro that the "experience" of the "purpose" of the building was moderate.
To quote Bizarro:
http://bizarrocomic.blogspot.com/
Saw the new multi-bazillion-dollar science museum in Golden Gate Park yesterday. In the humble, uneducated opinion of CHNW and I, the architecture of the museum is very cool, the content is pretty dull.
They have an indoor rainforest, but it isn't as good as one I saw in Dallas built 8 or 10 years ago. They have an aquarium that's pretty nice, but I've seen many better ones. I missed the planetarium, so I can't comment. The roof is a cool idea with grass and plants all over it, but that is more about architecture than science. That's about it. Unless you're an architecture buff, it isn't worth the $25 admission fee. San Francisco's Exploratorium is better, in my opinion.
:}
It is true too. Having come from the Monterey Aquarium which knocks your socks off the minute you walk in the door , I can say that the experience was geared for kids and has many learning "moments" to it. But that is OK, I mean it is the California Academy of Sciences. Much like the Field Museum in Chicago they are about exposing science, and "doing" science, but also about getting kids INTO science. Dan doesn't have any kids so it is kinda beyond him. But a building that generates most of its own power and uses geothermal to heat and cool. One that has a living roof, reuses water and has manditory recycling. O HOLY God.
:}
Here is what they have to say about it:
http://www.calacademy.org/sustainable_future/green_practices/
"The total message of the building is a green message. It's about life, how we got here, the marvelous diversity of life, it's preciousness, and the choices we face in learning how to stay."
—Dr. Gregory C. Farrington, Ph.D., Executive Director
California Academy of Sciences
Below is the Academy's official statement on sustainability recently approved by the Academy's board of directors:
"Sustainability is often defined as meeting current human needs without endangering our descendants. There is a broad, scientific consensus that our current environmental demands are unsustainable, causing climate change, degradation of natural habitats, loss of species, and shortages of essential resources.

The California Academy of Sciences' mission to explore, explain and protect the natural world compels the Academy to engage in scientific research relevant to sustainability, to raise public awareness about these urgent problems, and to minimize its own environmental impact.

The Academy's green building signifies its commitment to sustainability. The culture and internal practices mirror that commitment in the areas of energy, water, waste management, transportation, purchasing and food. Academy programs highlight the living world and its connection to the changing global environment . Academy research focuses on the origins and maintenance of life's diversity, and its expeditions roam the world, gathering scientific data to answer the questions, "How has life evolved, and how can it be sustained?"
:}
Here is what other people had to say about it: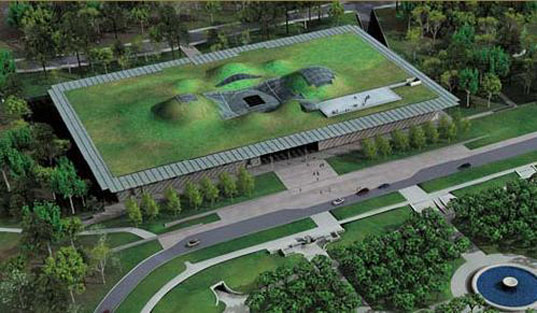 http://www.sfgate.com/cgi-bin/article.cgi?f=/c/a/2007/10/28/MN0VT1MSO.DTL
The first thing that overwhelms the senses is the very entryway, which is essentially a huge wall of glass revealing the contents of the building as if it were presenting an intellectual feast. From the door, you can see two huge, exotic-looking domes, a glassed-in piazza with a roof so high it's tough to see the top, and enough aquatic pools to fill an entire shoreline.
Taking possession of the building simply means the two-year-long construction job is virtually done, and the exhibits and collections must now be installed. But it's easy to see what's coming by looking at the structures that sit ready for stocking.
And what's to come will essentially amount to a massive, working display case for the public. Newly renamed the Kimball Natural History Museum, the sprawling edifice takes the musty old, dark-halled concept of natural history museums and blows it wide open.
It is full of airy, glassily transparent galleries and research labs, and everything from the "living roof" of plants and birds and butterflies already at home there, to the heat-recycling systems, is aimed at making it one of the most environmentally friendly museums on the planet. The exhibits being readied push the old paradigm forward several expensive steps in many ways – from adding bubble-shaped observation windows for viewing coral reefs and sharks to presenting the nation's largest planetarium, with digital film quality so precise it will make visitors feel like they're flying through space.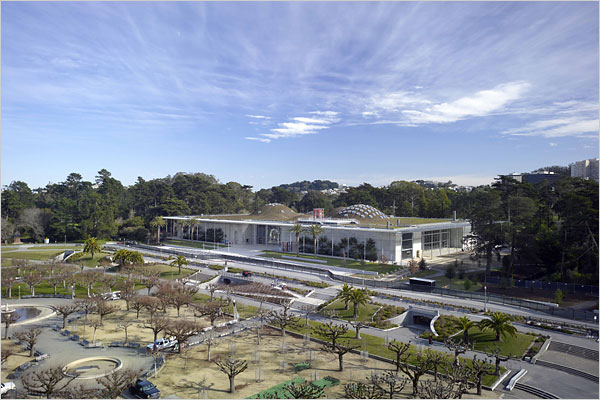 http://www.wired.com/culture/design/magazine/15-08/st_greenmuseum
Nestled into the fog and forest of San Francisco's Golden Gate Park, the California Academy of Sciences aims to be the world's largest eco-friendly public building when it reopens in 2008. (It's bucking for a platinum LEED green-building certification.) Architect Renzo Piano used a textbook's worth of enviro-engineering tricks for the seven-year effort, an almost total teardown and rebuild. At $484 million, it's one of the most expensive museum projects in a century. But if it all works as planned, the city will boast a natural history museum that enhances nature instead of just stockpiling it.
:}
Ironic isn't it that this is the last post I made before our server crashed and CES lost 9 posts. Well we are back in the game today Ladies and Gentlemen. We are here to stay. Renewed in our faith that homosapien can live here in peace and harmony.
:}