In Victoria the temperature has been above 44 degrees all week and they are forecasting another week of 40+ temperatures.  Power is failing, trains have stopped running because tracks are buckling under the heat .  It's just scorching.  And it seems that the people are not the only ones suffering.
 
Check out these photos of a little Koala which just walked  onto  a  back porch looking for a bit of heat relief.   The woman filled up a bucket  for it and this is what happened!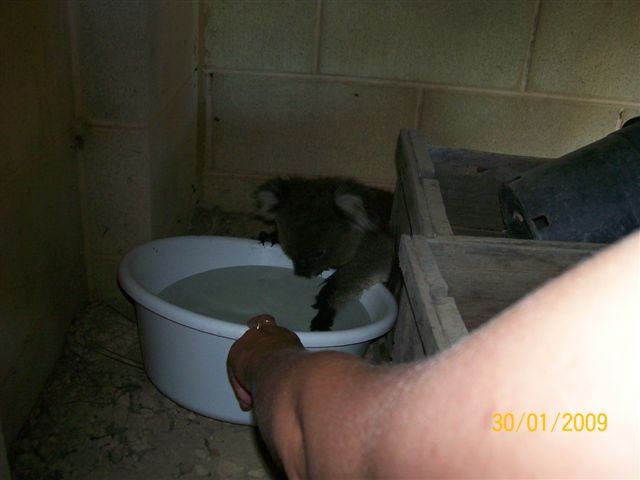 Kinda dark but: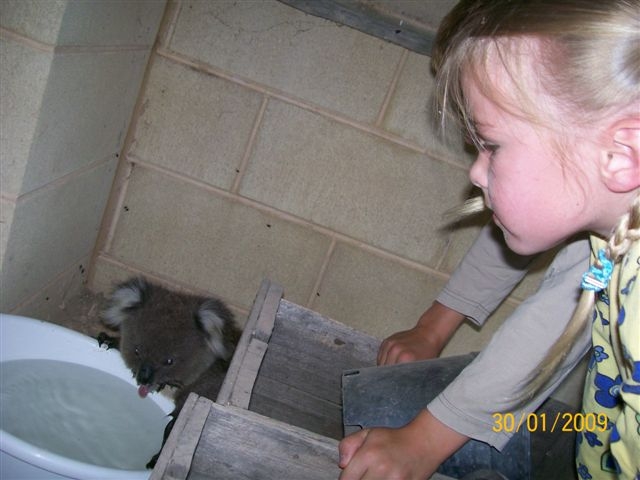 Getting better:
About right: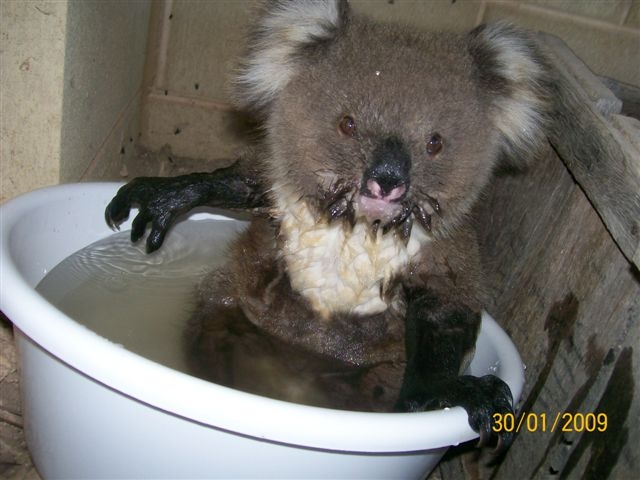 But see this is actually the effects of Global Warming. We are burning the animals and plants off this planet UP.
http://earthobservatory.nasa.gov/IOTD/view.php?id=36900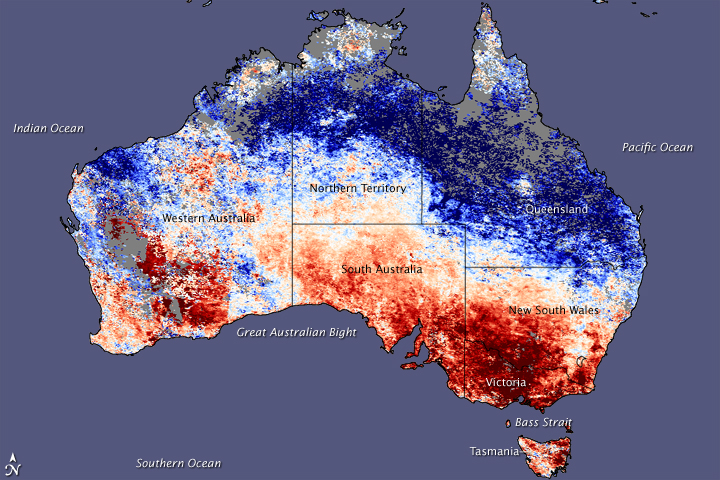 For those who track their local temperatures using the Celsius scale, 40 degrees is a daunting number. In early February 2009, residents of southeastern Australia were cringing at their weather forecasts, as predictions of temperatures above 40 degrees Celsius (104 degrees Fahrenheit) meant that a blistering heat wave was continuing.
This map of Australia shows how the land surface temperature from January 25 to February 1 compared to the average mid-summer temperatures the continent experienced between 2000-2008. Places where temperatures were warmer than average are red, places experiencing near-normal temperatures are white, and places where temperatures were cooler than average are blue. The data were collected by the Moderate Resolution Imaging Spectroradiometer (MODIS) on NASA's Terra satellite. While southern Australia was scorching, a similarly large area of northern and central Australia was several degrees cooler than it was in the previous nine years. The cool anomaly across that region is probably linked to the above-average rainfall the area has received during this year's wet season.
Land surface temperature is how hot the surface of the Earth would feel to the touch in a particular location. From a satellite's point of view, the "surface" is whatever it sees when it looks through the atmosphere to the ground. That could be the sand on a beach, the grass on a lawn, the roof of a building, or a paved road. Thus, daytime land surface temperature is often much higher than the air temperature that is included in the daily weather report—a fact that anyone who has walked barefoot across a parking lot on a summer afternoon could verify.
The Australian Bureau of Meteorology (BOM) called this heat wave "exceptional," not only for the high temperatures but for their duration. One-day records were broken in multiple cities, with temperatures in the mid-40s. In Kyancutta, South Australia, the temperature reached 48.2 degrees Celsius (118.8 degrees Fahrenheit). Many places also set records for the number of consecutive days with record-breaking heat.
:}
It will only get worse.
:}