Conspiracy theoriests say that this is the result of collusion between, Big Oil, Dick Cheney, President Bush, the Big Refiners, the Gasoline Dealerships and certain Rich Republicans (you know who you are) to artifishally lower the price of Oil and Gasoline to steal the election from Barack Obama and hand it to John McCain. Damn that was a long sentence.
It's not because the Oil Markets were destabilized by speculators for the first time in nearly 100 years and prices are going to swing widely as a result. I bet Oil Prices go to 40$$ per barrel, before they skyrocket out of sight again. The Saudi's are getting soaked. That sucking sound you hear is billions of Saudi $$s flowing into the US. I imagine at some point the Saudi's will take murder contracts out on the hedge fund managers, the super wealthy, and the currency traders who caused all this craziness in the first place. Which is fitting I suppose.
I am busy with the election so maybe no energy post to follow but Dan Piraro asked me to pass along a couple of cartoons that were rejected by a really really famous magazine that ethics prevents us from naming (Time):
 http://bizarrocomic.blogspot.com/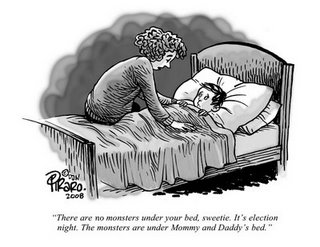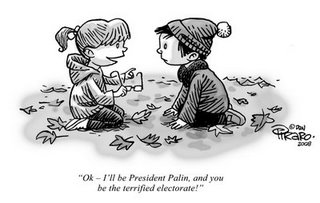 If you find the titles too hard to read the first one says "mommy is too tired to run her hands under your bed clothes tonight, honey" and the other one says "let me put my glasses on because it doesn't look as big as you said"
And if you believe that well you probably believe the conspiracy theory above. Oh go to dan's web site and click on the cartoons. They magically get bigger and then you can read the print.
GET OUT AND VOTE!