It is Jam Band Friday Delbert style – http://www.youtube.com/watch?v=PxNnEEK6uG0
OK now that I have everybody's attention. The people who do not accept Man Caused Global Atmospheric Destabilization (some people call it Global Warming I don't) are insane or delusional. They just don't want people to notice the obvious. They try to draw the arguement so far back into the clouds because if they admit MANKIND is contributing to the mess then the rest of their rhetorical walls begin to tumble. But to ignore this is pretty hard to do.
( http://www.youtube.com/watch?v=kdXzJaCeHP8 )
Australia shipping alert over massive iceberg
SYDNEY (AFP) – Australian authorities Friday issued a shipping alert over a gigantic iceberg that is gradually approaching the country's southwest coast.
The Bureau of Meteorology said the once-in-a-century cliff of ice, which dislodged from Antarctica about a decade ago before drifting north, was being monitored using satellites.
"Mariners are advised that at 1200 GMT on December 9, an iceberg approximately 1,700 kilometres (1,054 miles) south-southwest of the West Australian coast was observed," it said, giving the iceberg's coordinates.
"The iceberg is 140 square kilometres in area — 19 kilometres long by eight kilometres wide."
Experts believe the iceberg — known as B17B — is likely to break up as it enters warmer waters nearer Australia, creating hundreds of smaller icebergs in a hazard to passing ships.
"It's still 1,700 kilometres away, so it's quite a long way away, it's not really on our doorstep yet but it's been heading steadily towards us," glaciologist Neal Young said Thursday.
:}
( http://www.youtube.com/watch?v=YeNNBUhobNg&feature=related )
http://www.cbc.ca/technology/story/2009/12/11/tech-iceberg-australia.html

This satellite image shows several icebergs breaking off the Antarctic ice shelf in 2000. The iceberg B17B on the left has been spotted 1,700 kilometres from Australia. (Australian Antarctic Division/Associated Press)
Scientists say that ice shelf calvings such as the one in 2000 happen about once every 30 years.
:}
( http://www.youtube.com/watch?v=ZMwpHkQlrtQ&feature=related )
Wish they would make up there minds…is this a once every 30 years experience or once every 100 year event…but in a way it is so monumental that it is amazing that there is a Climate Summit going on and the deniers have everyone talking about stolen emails and NOT this. Cover your ears and go lalalalalalala.
:}
( http://www.youtube.com/watch?v=AUgzsdqY1uE&feature=related )
This chap's post is in the same vein as mine but alas he is a Denier.
http://www.guardian.co.uk/film/filmblog/2009/dec/11/australia-iceberg-casting-the-news
Casting the news: The Blizzard of Oz, the Australian iceberg disaster movie
This week we need your help producing the big-screen version of the smackdown between one big island and one mammoth iceberg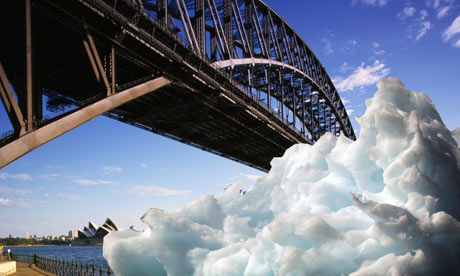 A crowd of suntanned Australians stand at Sydney harbour. As is traditional, they are having a barbecue. Someone has set up a cricket wicket in the middle of the road. The mood is a happy one. Then, all of a sudden, the light disappears from the sky. Men and women alike turn round to find a 50bn-tonne iceberg where the sun once was. This is B17B, the superberg, and it's headed right for them, bringing with it a nightmare microclimate: cyclones filled with swirling tinnies, raining wombats and vicious blizzards (to enable the title).
The latest Guardian/film/films production – working title: The Blizzard of Oz – promises to take the disaster movie where it's never been before. Australia. Inspired by latest events, we plan to tell a tale of ecological disaster that will keep you on the edge of your seat for pushing three hours and guarantees a flying CGI kangaroo every 15 minutes.
To clarify: the latest news seem to suggest that B17B, a 140 sq km block of ice that has broken free from the Antarctic ice shelf, looks set to miss Australia altogether. What's more, it was heading for the west coast, not the east, so featuring Sydney would be a stretch, too. But this is the movies; rules get bent. Which is how we came to cast Stefan Dennis in the lead role.
:}
( http://www.youtube.com/watch?v=9qY1e2hGQ2o&feature=related )
After Australia it is probably headed towards India and they are concerned…
http://trak.in/news/iceberg-19-km-by-8-km-drifting-towards-australia/33597/
, 19 km by 8 km, drifting towards
Sydney, Dec 9 (DPA) An iceberg twice the size of Sydney Harbour is heading towards Western Australia, news reports said Wednesday.
:}
They don't have too much else to say about it. They must emit one hell of a lot of green house gases…do you think?
( http://www.youtube.com/watch?v=xEYuo5jxuzQ&feature=related )
:}